Have you seen the redwoods at Muir Woods? If you haven't been to this National Monument, it may be time to take a trip to see these awesome giants up close!
One of our favorite places in the Bay Area is the famous redwoods at Muir Woods National Monument. Once known as Redwood Canyon, this park is home to ancient groves of towering redwood trees, diverse wildlife, and spectacular views. And if that isn't enough to lure you in, they also have an amazing coffee shop with a tantalizing selection of light bites and craft beverages.
There are so many things to love about this incredible park, which is why it is one of the main highlights on our Famous San Francisco and Muir Woods Combo Tour. After seeing some of the San Francisco sights, we devote an entire hour of this tour to the park. It's the perfect opportunity for you to experience the majesty of the forest. You'll also capture some incredible photos of Muir Woods!
It's hard for us to describe the feeling you get while wandering through woodland paths amidst trees that are over 1,000 years old. So, we're going to let these photos, captured by our tour guests, do most of the talking. Come with us as we outline these nine reasons to explore Muir Woods redwood forest!
Or if you're ready to come see the redwoods in person, reserve your spot on our Muir Woods Tour from San Francisco!
Learn More About the Muir Woods Tour
Photo submitted by Stephanie P. via Facebook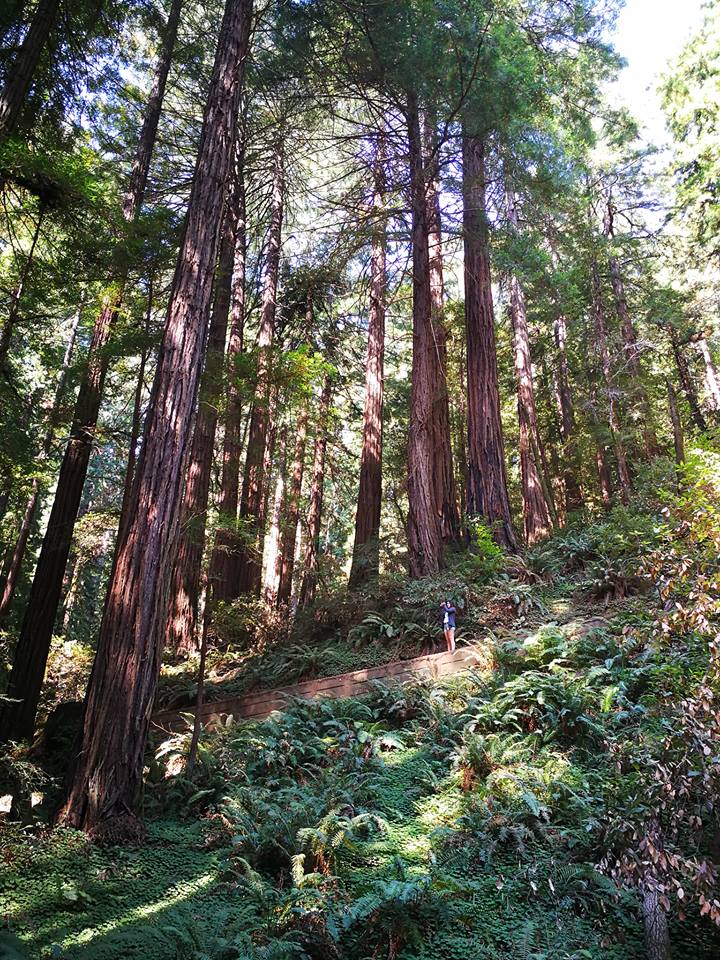 Muir Woods History
Muir Wood's history is almost as interesting as its trees are majestic. During the late 1800s, Muir Woods was known as Redwood Canyon. Because of this, it was considered one of the most profitable resources for the logging industry.
To preserve its natural beauty, it was purchased by US Congressmen William Kent and his wife, Elizabeth. Not many years after being rescued from the threat of the logging industry, a water company planned to block off the creek that feeds the woods. As a result, the Federal government stepped in. In 1908 President Theodore Roosevelt protected the land by declaring it a National Monument.
Roosevelt and Kent chose to name the park after Kent's close friend, the famous naturalist John Muir. Muir was thrilled with the dedication. He stated that "this is the best tree-lovers monument that could possibly be found in all the forests of the world."

---
Photo by @carlsturgess63 via Instagram

Muir Woods Trees
Muir Woods is covered in dense forests of coastal redwoods. These incredible evergreens are a close relative of the Giant Sequoia and are noteworthy for their fragrant red bark and towering heights. Muir Woods' tallest tree is 258 feet tall, while the known oldest tree is 1,200 years.
Redwood trees can only be found on the Pacific coastline between Monterey and Southern Oregon. So, visitors to San Francisco will definitely want to take an opportunity of seeing these ancient groves. Trust us, you won't want to miss out on seeing these awesome giants up close!
---
Photo by @dr._a2sah via Instagram

Views
If the trees themselves aren't enough of a draw, this coastal monument offers sensational ocean views to the adventurous hiker! While much of the park is devoted to the flat terrain of the valley floor, there are several hikes that lead up the sides of the canyon.
One of our favorites, the Dipsea Trail, climbs up to the valley crest. From this soaring vantage point, hikers can overlook both the ocean and the dense redwood groves of the park. While the loop is long and can be steep and strenuous, it's worth it for the spectacular sights!
---
Photo submitted by Stephanie U. via Facebook

Wildlife
Muir Woods is home to more than fifty species of birds and a variety of woodland animals. It is also the spawning and rearing sight of the threatened fish species coho salmon. While most of the wildlife in Muir Woods keeps well out of sight of visitors, you may be able to catch a glimpse of some if you keep your eyes open!
Look out for chipmunks, white-tailed deer, wild turkeys, gray foxes, butterflies, and, of course, banana slugs. Even though you most likely won't see them, the woods are also home to river otters, spotted owls, bats, and bobcats.
---
Photo by @sujitrahoney via Instagram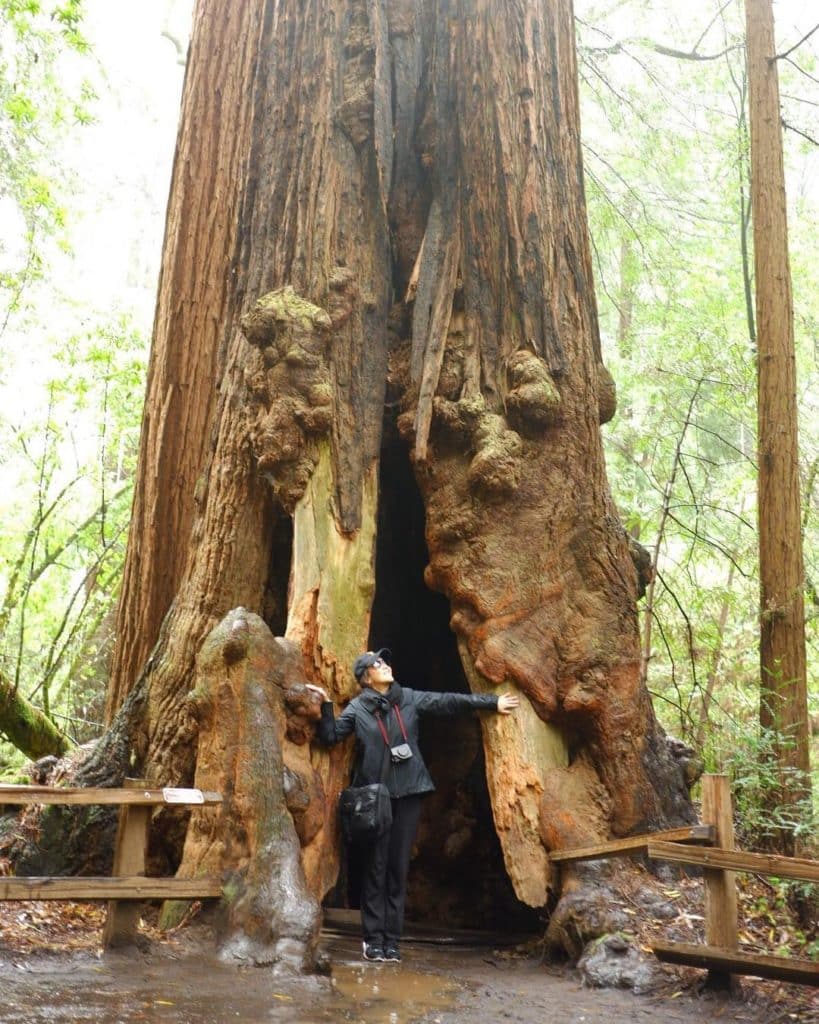 Location
Muir Woods is conveniently located in Marin County on the northwest coast of California. If you're staying in the Bay Area on vacation, you may be wondering how far Muir Woods is from San Francisco.
The answer is that it's very close! Located just 17 miles north of the city, it takes about an hour to drive to Muir Woods from San Francisco.
There are a variety of convenient ways to get to Muir Woods from San Francisco, either by car, shuttle, or even one of our guided Muir Woods shuttle bike tours. Whatever mode of transportation you choose, we recommend planning ahead and getting an early start because parking can fill up at this popular destination.
---
Photo by @carlsturgess63 via Instagram

Weather
Like most of coastal California, Muir Woods experiences mild weather almost year round. Whether you come in high summer or mid-winter, the climate in the redwood grove is similarly mild and comfortable, if a little cool in the deep shade of the trees.
Due to the Pacific Ocean just over the hills, the woods are often enveloped in a dense morning fog that usually evaporates in the late afternoon. Seeing the mist-shrouded redwoods is a breathtaking experience, so we recommend trying to get to the groves early in the day if you can!
---
Photo by Teresa M. via TripAdvisor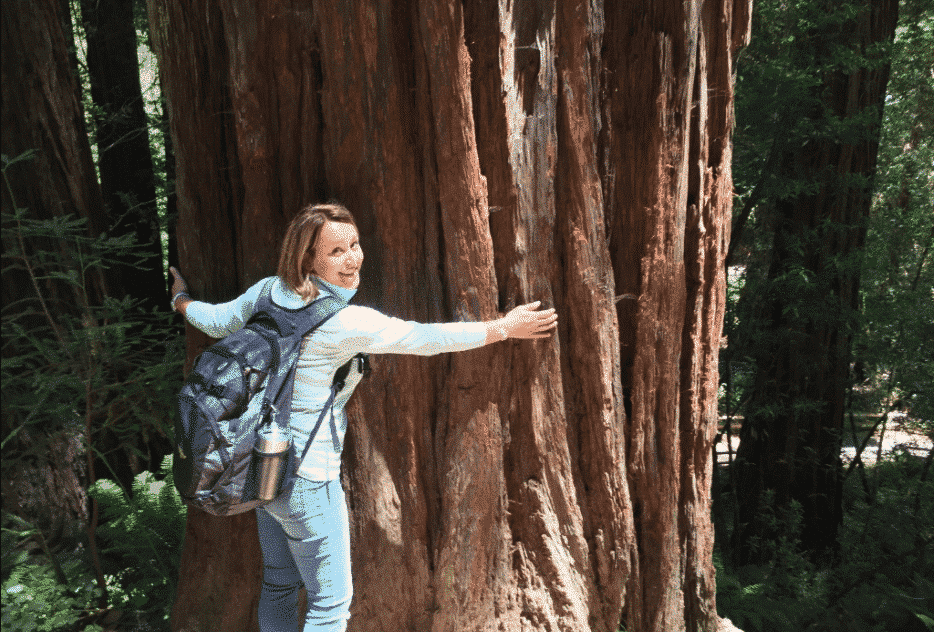 Muir Woods Hikes
This 554-acre park is crisscrossed with hiking trails for every level of hiker. Along the valley floor, you'll find the Bohemian Grove trail, a two mile-loop of wide wooden walking paths.
If you wander down this path, be sure to take note of some of the famous groves that grow along it: Founders Grove, Bohemian Grove, and Cathedral Grove. Here you'll find prolific growths of massive redwoods, including the largest tree in the park, the Pinchot Tree in Founders Grove.
Leading off from the main wooden path are a variety of steeper trails, including the 4.7 mile Sun Trail, the 5.2 mile Ben Johnson Trail, and the 7-mile Dipsea Trail. This trail connects Muir Woods all the way to Stinson Beach! Each of the paths offer unique and beautiful vantage points for observing the tremendous beauty of the natural park.
Whether you spend your hike simply breathing in the beauty of nature, or snapping epic Muir Woods Instagram photos, you'll be sure to make some unforgettable memories in the redwoods!
---
Photo by Robin I. via TripAdvisor

Tours
If you're wondering how to get to Muir Woods, we've got you covered! Finding the park entrance can be surprisingly challenging, and the devoted parking lot is often full. Because of this, we think booking a redwoods tour is an amazing way to easily access the park.
There are several options for Muir Woods tours, including our Famous Tour & Muir Woods and our Bike the Bridge & Shuttle to Muir Woods Tour. Both of these tours include a lengthy visit to Muir Woods. During the stop, you'll have plenty of time to take a self-guided walk around the Bohemian Grove Trail!
---
Photo by Tony B. via TripAdvisor

Cafe
Last, but certainly not least, the Muir Woods Trading Company Cafe is well worth pointing out! After hiking through the sometimes chilly redwoods, do yourself a huge favor and stop at this little restaurant for some warm refreshments.
The cafe boasts a menu featuring hot and cold beverages, paninis fresh off the grill, hearty soup, deli sandwiches, and locally inspired pastries. It's the perfect way to end your Muir Woods trip.
What are your favorite things to do in Muir Woods? Next time you find yourself among the Muir Woods redwoods, don't forget to share your photos with us on Instagram & Facebook by tagging us #DylansToursSF!

---
Interested in a San Francisco combo tour that covers the city highlights and the redwoods at Muir Woods? Book our Famous San Francisco Tour Today!
Book Dylans Famous Muir Woods Tour
If you're just looking for transport up to Muir Woods, our direct shuttle option from San Francisco is also a good option.
---
Looking for more places to explore in San Francisco? Check out these other blogs and start planning your next trip to the Bay Area.
Cool Things to Do in San Francisco