The Story Behind Dylan's Tours
Dylan's offers authentic, off-the-beaten-path experiences in San Francisco and beyond. With tours and day trips led by friendly and welcoming local guides, Dylan's shares unique insights into the colorful and rich history of the San Francisco Bay Area.
From exploring the city's most treasured neighborhoods and landmarks to walking through the Giant Redwoods on a tour of Muir Woods National Monument, Dylan's delivers enjoyable and entertaining experiences for all. Today, the options have grown to include electric bike tours and e-bike rentals, wine tours of Napa and Sonoma Valleys, and custom private experiences for groups of all sizes. Continuing to share noteworthy and engaging excursions remains at the heart of it all.
Join Dylan's for an unforgettable experience that you'll remember for years to come.
Charles
Minibus Tour Guide
When Charles isn't hiking, biking or camping (he's visited 50% of National Parks in the US!), you can find him in the Outer Sunset grabbing coffee or a beer.
Charles says, "Don't miss Ocean Beach!"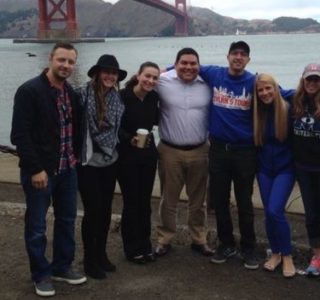 Adam
Minibus Tour Guide
Favorite place to eat in SF: Taqueria Cancun
"The tour was great! Adam was very funny and knowledgeable. He did a great job telling the history of San Francisco." – Erin, Cincinnati, Ohio
Eli
Minibus Tour Guide
Favorite place to eat in SF: Pakwan in the Mission
"Thank You Eli. What a masterful tour you gave of San Francisco today (my birthday!)" – Kim, Florida
Leila
Minibus Tour Guide
When not contributing to our social media, you can find Leila and her dog "Mister" visiting San Francisco's beaches, numerous cafes and restaurants.
Leila adores North Beach – "The absolute best!"
Marlin
Minibus Tour Guide
When not touring, you can find Marlin playing disc golf in Golden Gate Park or relaxing on Baker Beach.
He recommends Haight-Ashbury for its delicious food and awesome record shops.
Julio
Minibus Tour Guide
Julio recently graduated with a degree in kinesiology.
Julio loves bouldering, attending comedy shows, and highly recommends going for a run in Golden Gate Park!
Per
Minibus Tour/Bike Guide
Per's enthusiasm for SF is only surpassed by his love for pinball. He plays in several tournaments each year around the world.
The Castro is his favorite 'hood "It's warm and the people are great."
Rolando
Minibus Tour Guide
Favorite place to eat in SF: Sotto Mare (cioppino!)
We had Rolando as our tour guide and he is AMAZING! A fun, energetic, friendly guy, and native of San Francisco." – Lindsay, UK
Sam
Bike Tour Guide
When she isn't on a bike tour, Sam enjoys playing guitar, singing karaoke, and spending time with her family.
Sam recommends the Polk Gulch neighborhood for nightlife- "great bars and restaurants!"