A Traveler's Guide to the 5 Types of Golden Gate Bridge Tours
More than 10 million tourists make the trek every year to see San Francisco's famed Golden Gate Bridge. Are you ready to join their ranks? If so, you'll have a few ways to see it. The Golden Gate Bridge is one of the most accessible landmarks in the city, the Golden Gate Bridge is ideal for driving, walking, and biking! Not sure which option will fit into your itinerary the best? That's where we come in. 
Today, we're sharing different ways to make the most of your visit, including our top Golden Gate Bridge tour options to explore. Ready to learn more? Let's take off!
Why Visit the Golden Gate Bridge?
The city of San Francisco is full of gorgeous architectural stunners, world-class cuisine, and culture that oozes from every corner. From the cable cars to Alamo Square, you could spend days just walking around and soaking it all in. Why should you add a Golden Gate tour to your plans in the city?
It's simple: The Golden Gate Bridge is an impressive historic landmark and an unprecedented engineering marvel. In 1933, construction workers began the project over open water, grateful to find employment during the Great Depression, though the working conditions were often treacherous. The Golden Gate Bridge was first opened to the public in 1937, the nearly-two-mile-long bridge connects the city of San Francisco to nearby Marin County, California. It gets its name from the water it passes over. The narrow strait where the San Francisco Bay joins the Pacific Ocean is known as the Golden Gate!
No visit to the Golden City is complete without a stop at the iconic structure that gives it its nickname. Yet, when you're planning a tour of the Golden Gate Bridge, it doesn't take long to realize that there are myriad ways to see it up close and personal. Let's take a look at some of the different tour options you can squeeze into your schedule!
Golden Gate Bridge Walking Tours
Are you up for a little physical activity? If you don't mind the ride, a walking tour of the Golden Gate Bridge can be an incredible way to take in the sights. Along the way, you'll also enjoy magnificent views of the city, the Bay, and even Alcatraz!
However, there are a few things to understand before you set out. First, pedestrians are only allowed to access the bridge on the east sidewalk, also known as the Bay side. Until 3:30 p.m. on weekdays, you'll share this sidewalk with cyclists, but on weekends and holidays, it's reserved for pedestrians only.
The hours of accessibility are as follows:
Pacific Standard Time (Winter): 5:00 a.m. to 6:30 p.m.

Daylight Savings Time (Summer): 5:00 a.m. to 9:00 p.m.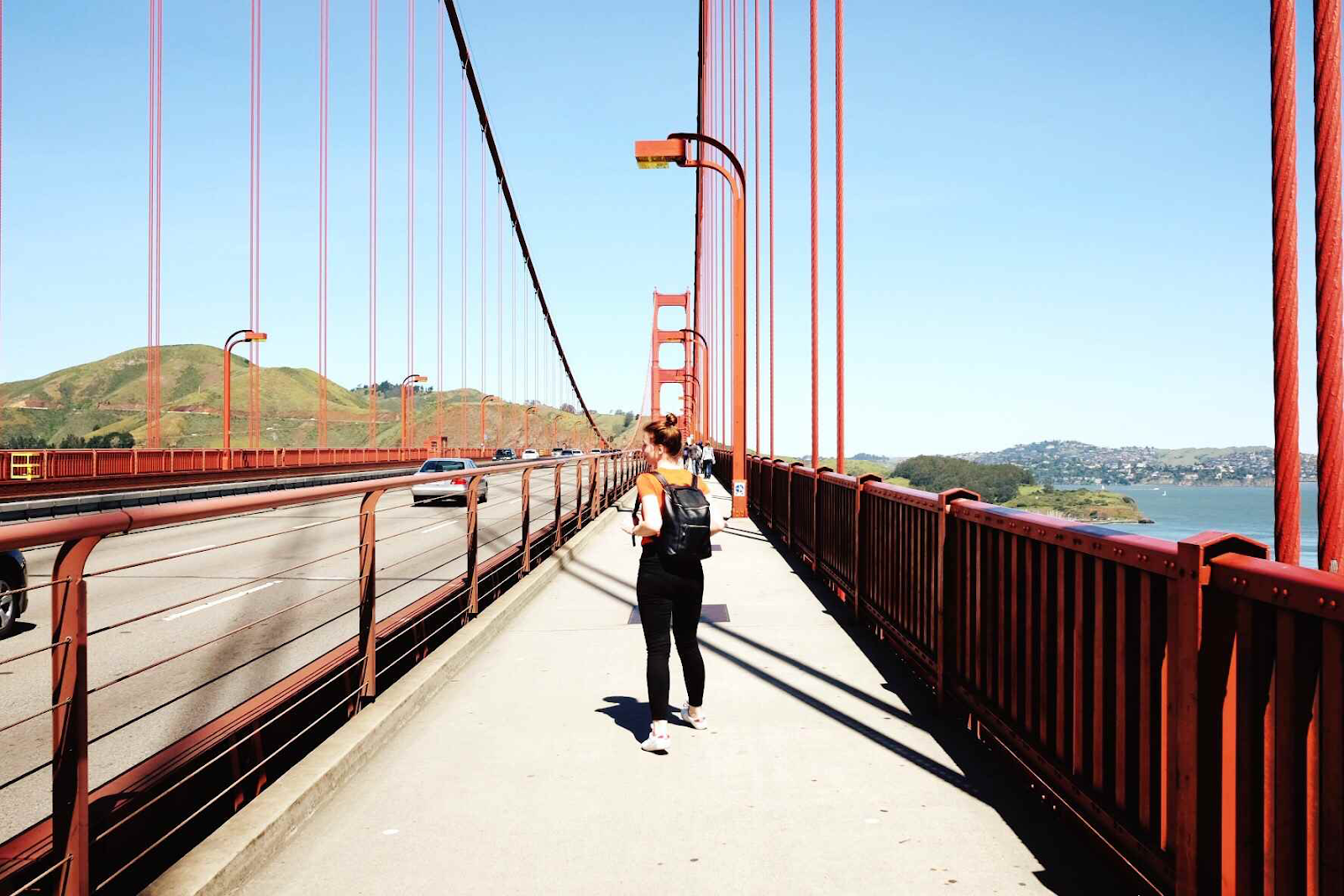 As the bridge spans around 1.7 miles across, plan to spend about 35 to 45 minutes walking each way at a reasonable pace. Of course, factor in more time if you want to stroll and savor the sites! Be sure to wear comfortable shoes. Also, remember to dress in layers! The air on the bridge can be chilly, even during the summertime, as brisk winds blow in from the water below. Check out our tips in a Guide to Hiking in San Francisco. 
One of the best times of day to walk the Golden Gate Bridge is in the afternoons, after 3:30 as during the week, cyclists will be on the west side of the bridge. Plus, the lighting is excellent as long as the fog doesn't impede!
Around the city, you'll find both guided and unguided walking tour options available. If you're interested in learning about the bridge and its incredible history, a guided tour can provide insider knowledge you won't get if you go alone. Here are two great options for guided walking tours across the Golden Gate Bridge.
Free Tours by Foot
Free Tours by Foot offers excellent guided tours to walk across the beautiful Golden Gate Bridge. The best thing? They offer their tours for free. Free Tours by Foot thinks that everyone should have the opportunity to enjoy a tour at a price they can afford. That's why the company works with the concept "name your own price". Did you love the tour and your guide, let him or her know and name the price. The tour starts outside The Golden Gate Bridge welcome center, this is next to the Bridge Cafe. 
Make sure you make a reservation for your spot on the tour. Only with a ticket, your spot is guaranteed. The tour is 1.5 hours, and the total walking amount is under a mile. 
Note: in the winter, the tour runs on a limited basis. You can view the schedule on their website to check out if there is a tour on your date. 
San Francisco Urban Adventures
San Francisco Urban Adventures offers small group tours where you will be hiking the coastline past the Golden Gate Bridge, Sutro Baths, beaches, and the bay. All of their tours are given by a local, they will let you discover the secret trails and share their local history knowledge of this world-renowned landmark. The tour takes 3.5-4.5 hours in total, and a ticket costs $58 (adults, 6+). 
Some of the highlights you will discover
Explore the rich history from the bridge to the beaches, the neighborhoods and beyond

Capture scenic photos on a leisurely walk along the rugged coastline from The Golden Gate Bridge to Land's End

Discover the secret trails and mingle with the locals at play in this beautiful part of San Francisco
Golden Gate Bridge Cycling Tours
There isn't much that beats riding a bike across the bridge as the sun sets into the water below. Here, too, you'll have plenty of options. 
Some cyclists prefer to ride their bike over the bridge and back. Others prefer to ride across the bridge and then into the charming city of Sausalito for lunch. If you choose the last option, you can return to the city in minutes via ferry! This way, you don't have to brave the uphill ride from Sausalito back to San Francisco. Plus, the ferry includes incredible views of both the city and Alcatraz. The Society of American Travel Writers named it the second most-exciting ferry ride in the world!
If you prefer a more personal experience, you're free to cycle over the bridge on your own. Or, you can join a cycling tour and go with a group! Most group cycling tours begin around Fisherman's Wharf, travel over the bridge, and conclude in Sausalito. Once there, you can explore before it's time to board the ferry.
While there aren't any bike rental shops or offices near the bridge itself, there are several places to rent one on your way there, especially near Fisherman's Wharf and along Lombard Street. Our bike rental office is located in North Beach, near the biking path that leads to the bridge. 
Golden Gate Bridge Electric Bike Tours
For a once-in-a-lifetime experience, trade-in your standard bike for an electric one! Nothing beats the comfort and convenience of an electric bike, making it an excellent way to traverse the Golden Gate Bridge, as well as the rest of the city.
When you join our Original City Loop electric bike tour, you'll be able to go into places where an ordinary tour bus cannot fit or isn't allowed, including some of the top neighborhoods. We design our bike route to avoid traffic congestion, large crowds, and bumpy roads. In other words, you'll explore the city like an in-the-know local! In all, our electric bike tour spans more than 20 miles and takes you to 15 distinct locations around San Francisco, including an exclusive stop at the 1,000-acre Golden Gate Park. 
We'll spend a little extra time on the Golden Gate Bridge, allowing you to take plenty of photographs to capture the fantastic views. Be sure to inquire about our hotel pickup service to make the entire trip a breeze.
Biking Tour Plus Muir Woods
Love the idea of riding a bike across the Golden Gate Bridge, but want to make the trip last a little longer? In addition to our Original City Loop Tour, we also offer an extended trip that takes you into the beautiful Muir Woods, our Bike the Bridge + Muir Woods Shuttle. 
Located less than 45 minutes from San Francisco, Muir Woods is designated as a National Monument in the state of California. Recognized as one of the oldest and longest-standing stretches of ancient, old-growth redwoods along the Pacific Coast, it's a stunning look at how powerful nature can be. Famed English landscape architect William Kent requested that President Theodore Roosevelt named the woods after the great conservationist John Muir. In 1908, Roosevelt established the setting as a National Monument under the Antiquities Act. 
Now, it's one of the most visited sites in all of the Bay Area, with 1.2 million visitors every year. 
We offer a unique tour option that allows you to bike the Golden Gate Bridge, and then take a shuttle to visit the Muir Woods National Monument for one full hour before returning to the city on the same shuttle. As opposed to our guided electric bike tour, this is a self-guided tour that you can take on your own. You'll also get to choose between a seven-speed bike and an electric bike, depending on your preference!
When you cross the bridge in the morning and arrive in Sausalito, you'll have plenty of time to grab lunch and explore the waterfront town before boarding our afternoon shuttle. This is a full-day tour that begins between 9:15 a.m. and 10:30 a.m. and ends around 4:00 p.m. to 5:00 p.m.
Note: This bike tour can be a little more challenging, as there are two hills along the route!
Golden Gate Bridge Minibus Tours
Love the idea of seeing the city and crossing the Golden Gate Bridge, but want to do so in a comfortable, climate-controlled environment? We don't blame you. That's why we designed our minibus tours to be as luxurious as possible. 
Our trademark "Famous Tour" has been a top pick for tourists for more than a decade, and for a good reason. When you hop on board, you'll get an early-morning view of the city before the noon rush sets in. From recommendations on what to see and where to eat to stops along the way at all of the best sites, we'll cover some impressive ground. We'll even show you where scenes from some of your favorite movies and television shows were made, including that memorable montage from the Full House opening credits!
Then, we'll cross over the Golden Gate Bridge and conclude the tour at Sausalito. This is the perfect time to grab lunch and take a walk around the Mediterranean city! In all, the tour will take around three hours to complete.
Golden Gate Bridge Private Tours
If you're traveling with a group, you can also book a personal and private tour of most of the city's landmarks. Including The Golden Gate Bridge, we also offer a private look at the following locales:
Popular San Francisco neighborhoods

Major landmarks, including Marin Headlands and Twin Peaks

Alcatraz

Muir Woods

Sausalito
Bring your friends and family members together and plan to see the city in a new and exciting way! From two to 300 people, our experienced tour guides can handle it all. This is also a great way to show the city to the youngest members of your crew who might not be able to ride a bike.
Visiting on the San Francisco Side
Before you take off to tour the Golden Gate Bridge, plan to arrive a little ahead of time to enjoy the attractions on the city side. The Welcome Center is a great place to start your tour. Here, you'll find educational displays that detail the bridge's history and construction, along with a gift shop. Open every day from 9:00 a.m. to 6:00 p.m., it's a great way to pick up small trinkets for loved ones at home!
You can also fuel up for the day at the Roundhouse Cafe or Snack Cafe, located near the Welcome Center. Decorated in a fun art-deco style, the circular Round House Cafe is a nod to the city's past and future. Opened in 1938 as a roadside diner, it closed decades later and served as an office, gift shop, and guide tour center before reopening in 2015 as a family-friendly eatery yet again!
On the city side of the bridge, you'll also find more bike paths and walkways, as well as excellent views, parking lots, and bus stops. Use the bathroom, fill up your water bottle, and plan for a day by the water!
Golden Gate Bridge Tours
Are you ready to trade your 9-to-5 for a few days and dive headfirst into all that San Francisco has to offer? We're excited to welcome you to our city and can't wait to show you around.
Whether you prefer a seven-speed bike, electric bike, or minibus, we'll showcase the sights in style. Along the way, our well-informed and 100% tour guides will share insider tidbits that bring every destination to life. Whether you're interested in booking a Golden Gate Bridge tour, a city highlight tour, or even a visit to Alcatraz, we've got you covered.
Contact us today or visit our website to start the planning process. We'll help you see the city from new heights!
Discover San Francisco like never before! Join our Explore S.F. group on Facebook, your ultimate guide to the city's best-kept secrets. From local tips to monthly adventures, this is where your journey begins. Click here to join and start exploring!