How To See San Francisco In A Day
Whether you're traveling for work, if you're on a road trip and have limited time in each city, or if you just prefer to keep your travel plans short and sweet, your goal is to see as much of San Francisco as you can in as little time as possible. 
See San Francisco in a Day
If you only have one day in San Francisco, it can be pretty overwhelming to prioritize what you should see and what you can skip this time.
You want to ensure that you get pictures at some of the most famous landmarks and attractions, but you also want the time to explore some of the city's best neighborhoods. 
Consider this post your ultimate guide to what a San Francisco one day itinerary should include. 
If it sounds like a lot, don't worry — we'll also tell you how you can make it all happen with zero stress.
By the way, do you want to see San Francisco in just a day? Well with our Dylan's Famous San Francisco City Tour you can!
Highlights:
Explore the top neighborhoods with your local guide and learn the stories, history, and diversity of San Francisco.
13 locations, 7 amazing photo stops
We offer hotel pick-ups from all San Francisco Bay Area locations.
1. Visit Fisherman's Wharf
If you only have one day in San Francisco, you should absolutely be sure to visit Fisherman's Wharf in the city's stunning and historic Waterfront District. 
The Wharf houses Madame Tussaud's Wax Museum offers must-do cable car rides, and even gives you the chance to see sea lions up close! If you like, take some photos on the Musical Stairs, ride the two-story carousel, and check out the Aquarium of the Bay.
Besides enjoying all these attractions, be sure to include one of the many restaurants in your Fisherman's Wharf visit! You will find some of San Francisco's best seafood restaurants in and around this area.
Above all, make sure to take the time to tour the incredible line of historic fishing boats. 
There are always fun events happening at the Wharf, so be sure to do a quick check to see if any festivals will be held there during your visit.
2. Take Photos at the Golden Gate Bridge
The Golden Gate Bridge is certainly San Francisco's ultimate landmark, and you'll want to be certain you have time to see it from multiple angles and of course, snap a few photos. 
You can choose to walk across the 1.7-mile long bridge if you feel like hiking or just walk till you have seen enough. Either way, the beautiful color of the bridge and the stunning view will be breathtaking!
But be aware, it can be foggy in San Francisco, so be sure to check the weather forecast before heading over to the bridge! It would be a shame if the bridge is hidden behind the thick fog. However, if there is just some low fog hanging around the bridge, this makes for a surreal experience and makes you feel like you are walking on clouds.
3. Walk Through Muir Woods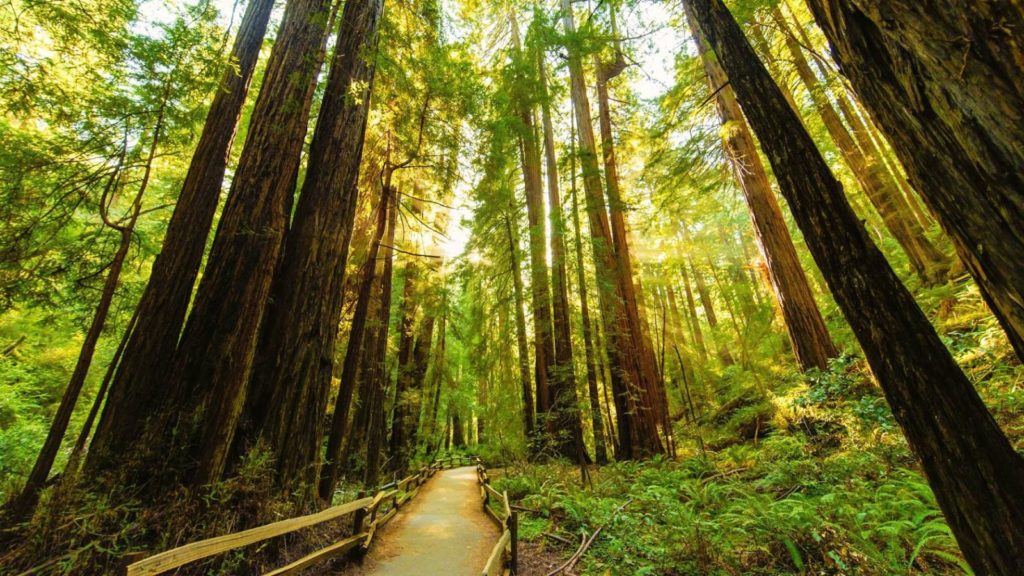 San Francisco may be a bustling city, but that doesn't mean you should miss out on its stunning natural scenery and experiences. 
A visit to Muir Woods to check out the famous redwood trees and absolutely stunning flowers isn't something you should overlook. You can even dedicate much of your time to hiking through the woods if you want a more nature-based experience. 
The height of the redwood trees, who are related to the sequoias in Sierra Nevada, is what makes this forest so impressive. 
You'll be able to see 554 acres of stunning coastal redwood trees — many of which are up to 800 years old and over 200 feet tall. 
But be aware, getting up to Muir Woods can be quite a struggle. Check out the best ways to get to Muir Woods from San Francisco.
Or watch the video below.
4. Step Into Chinatown

If you're in San Francisco for a day, you simply can't miss out on a visit to the incredible Chinatown neighborhood in the city.
It's one of the oldest neighborhoods in San Francisco and the set of countless films. Make sure you visit the Chinatown Gate. After entering this Gate you will find a lively maze of streets and alleys. Things to do include, souvenir shopping on Grant Avenue, getting lunch at traditional eateries, and photograph the Sing Chong and Sing Fat buildings. 
You may also want to check out the unique produce and animal market on Stockton Street and visit the Chinese Fortune Cookie Factory since the fortune cookies were first made in San Francisco.
Are you visiting San Francisco late January to early February? Make sure to celebrate Chinese New Year! The Chinese New Year Parade and the Community Street Fair are historical traditions that you have to see.
5. Pacific Heights Views

If you're looking for the perfect photo opportunity, it doesn't get much better than Pacific Heights. 
You'll be able to see some of the city's most luxurious houses in a colorful and Victorian-style — many of which belong to some of your favorite celebrities and billionaires. If you want classic San Francisco, this is definitely it. 
Best of all, it's home to the house from Mrs. Doubtfire and the Painted Ladies!
Throughout this neighborhood, you will find multiple viewpoints. After climbing the Lion Street Steps, soak in the view over the Bay and Palace of Fine Arts. 
If you feel like shopping, you should go to Fillmore Street. This lively street offers plenty of chique clothing boutiques and cafés, making this the perfect place to do so. 
6. Tour Little Italy in North Beach
You definitely want to take in the sights, sounds, and above all, the tastes of North Beach's Little Italy neighborhood. 
Here you can find family-style restaurants, gelato parlors, jazz clubs, and cabaret. It is also known as one of San Francisco's most electric playgrounds by night! You can dance to live music and enjoy the jazz and blues that keep the streets swinging at night.

Line up for focaccia from Liguria Bakery, take a picture in Washington Square, or catch some of the best views the city has to offer by heading up to Coit Tower on Telegraph hill. Here you will be treated with a magnificent 360-degree perspective of the Bay and the Golden Gate Bridge. 
Save enough time to simply walk down Columbus Avenue and take in the incredible atmosphere of this iconic neighborhood. 
7. Visit Presidio Park

This National Park at the Golden Gate Bridge is a must-see when visiting San Francisco. The Golden Gate  Bridge view, surrounded by nature is not only a National Park, it is also full of interesting military history.
Not only can you stroll around in the natural surroundings this park has to offer, but you will also find a lot of fun family activities to do, such as visiting the Walt Disney Museum, sit down at the Presidio Picnic every Sunday or get lunch at the weekly Food Truck Festivals.
Presidio Park hosts many other events and activities as well. Check out all Presidio Park events on their site. 
8. Go to Alcatraz

If you're taking a day trip to San Francisco, you may be a bit on the fence about seeing the world-famous Alcatraz prison. 
You can check out where gangsters like Al Capone, Meyer Cohen, and Bumpy Johnson served their time. Of course, we know you're interested in seeing if you can spot any of those alleged ghosts and hauntings, too. 
It's an incredible piece of history (especially for all the crime buffs out there) but getting tickets to visit the island can be very hard. 
If you know you just have to see Alcatraz, your best bet is to find a tour company that includes Alcatraz on their one-day itinerary. They'll handle everything regarding the timing of your ferry from Pier 33, so you won't have to worry about figuring out the ideal departure time or getting Alcatraz tickets.
Need Help Seeing It All in Just One Day in San Francisco?
We know that this list has you seriously excited to spend one day in San Francisco — but you're also a bit anxious about how you're going to get it all done. 
Let us take care of that for you. 
Our three-hour minibus tour of San Francisco city tour is perfect for those who are on a tighter schedule and is fun for both adults and children alike. Check out Dylan's Famous Tour's itinerary in the video below!
Best of all? 
You'll be able to see everything on this list — and much more — within the tour schedule. 
Use our easy online booking system to choose your date, and get ready to have one of the best days of your life. 
Frequently Asked Questions
How do I get around in San Francisco?
San Francisco offers unique ways to get around the town. While visiting, be sure to take a ride in the famous cable cars!
You can also get around by:
Walking – San Francisco is only 7 miles wide

Ride-Sharing – Uber, Lyft

Biking – renting a bike is easy

E scooter rentals

Taxies

Mini Bus tours

Ferries

Public transport – BART
What can I do in SF in a day / few hours?
San Francisco offers so much to do in just a day. Just walking the city and exploring the different neighborhoods is a great way to see the best parts of SF. Be sure to check out these neighborhoods:
Fisherman's Wharf
North Beach
Chinatown
City Hall
Mission District
Castro
Twin Peaks
Haight Ashbury
Pacific Heights
Presidio
Fort Point
Golden Gate Bridge
Marin Headlands