Top 4 Ways to Get From San Francisco to Yosemite National Park
The 4-hour drive from San Francisco to Yosemite National Park is one of the most scenic in the country, with winding mountain roads that are lined with ancient redwoods. Check out some of our favorite ways of visiting Yosemite from San Francisco!
Getting from San Francisco to Yosemite National Park requires a little bit of planning, but it has a big pay off.
The drive is too long for any ride share or taxi service, so we would recommend nixing Uber or Lyft right off the bat. In terms of public transportation to Yosemite from San Francisco, it's definitely possible but takes a long time and requires a whole lot of patience.
For the most enjoyable experience of Yosemite, we suggest getting there in one of two ways: 1) renting a car or 2) catching a Yosemite bus tour from San Francisco. Here are 4 ways to get to Yosemite from San Francisco that involve a car rental or transportation and tour by a local operator.
Top 4 Ways to get from San Francisco to Yosemite National Park:
The Yosemite and Giant Sequoias 1-Day Tour from San Francisco is an inspiring 1-day tour to Yosemite National Park and its Giant Sequoias from San Francisco.
Tour Highlights & Inclusions
Hike to Giant Sequoias (conditions permitting)
Stunning views of Half-Dome, El Capitan and Yosemite Falls
Free time to explore the valley floor and meadows
Local expert guide (English)
Foreign language audios in 8 languages
Guaranteed daily departures
Pickup at most San Francisco hotels
Park entry fee included at checkout
HOW TO GET FROM SAN FRANCISCO TO YOSEMITE NATIONAL PARK
---
1. San Francisco to Yosemite Road Trip
---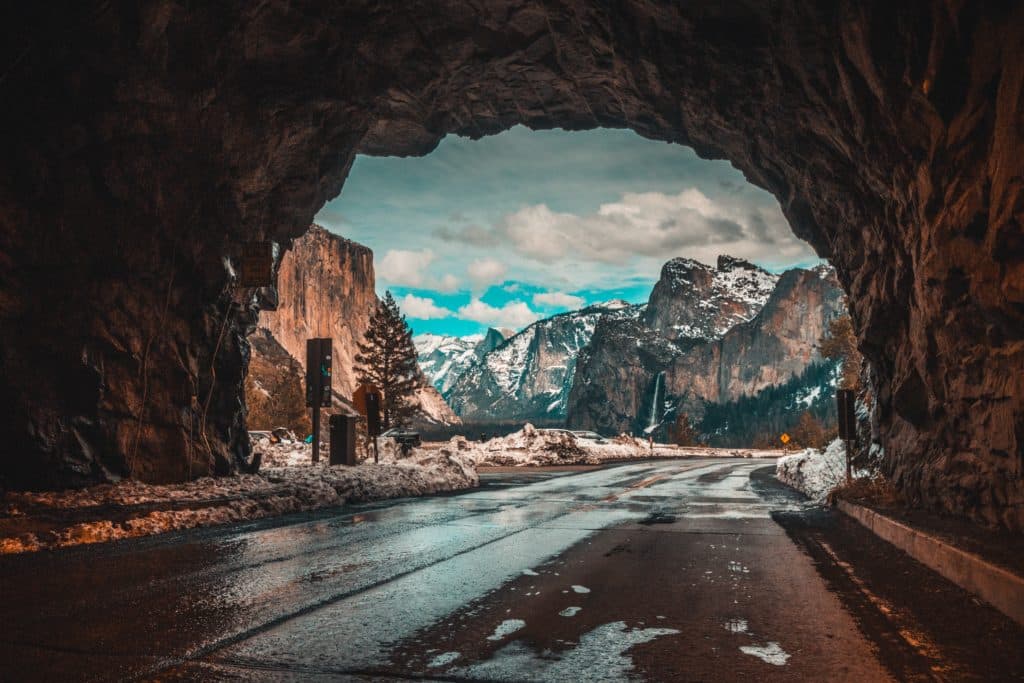 Taking a rented vehicle means you can break up the drive however you like! You can also enjoy the scenic drive to Yosemite from the comfort and privacy of a rental car.
Yosemite is about 170  miles away from San Francisco and about a 4-hour drive. So, we recommend starting your day as early as 5 AM or 6 AM to have full experience in the park.
If you prefer to sleep in while on vacation, something we're all guilty of, you can easily book a hotel. The historic Awhanhee hotel in Yosemite Valley is a fantastic option! This way you can spread your trip from San Francisco to Yosemite National Park over 2 or 3 days.
We always suggest spending at least two days in Yosemite, if you can swing it.
That way you don't have to worry about rushing back from Yosemite National Park to San Francisco on the same day.
With several rental car services, you'll also have the option to reserve a car rental that you can drop off near Yosemite. Then once you're ready to head back to the city, you can catch the Grayline bus from Yosemite to San Francisco.
Once you arrive in Yosemite, you'll have an endless amount of unique Yosemite tours to choose from.
Private guided hikes of Yosemite will help you get better acquainted with the area so you can go back and explore your favorite parts on your own.
You can even take a quick digital photography class in Yosemite Valley. This way you'll be able to better document your once-in-a-lifetime experience of Yosemite National Park.
Thrill-seekers will be happy to know there are also Yosemite zipline tours, just south of the park!
San Francisco to Yosemite Bus Tours
---
BEST BAY AREA TOURS
2. Yosemite in a Day Tour From San Francisco
---
Best Bay Area Tours is our top pick for anyone looking to do a one-day bus tour from San Francisco to Yosemite National Park.
Their minibuses are comfortable and the small groups create an intimate experience that bigger bus tours just can't recreate.
These Yosemite tours begin in the heart of San Francisco, near Union Square and Fisherman's Wharf.
Once you arrive at the park, your local driver-guide will shuttle you through Yosemite's popular sites for photos before stopping for lunch.
During lunch, you'll have free time to explore on your own before driving back from Yosemite to San Francisco.
INCREDIBLE ADVENTURES
3. 3-Day Yosemite Camping Adventure from San Francisco
---
---
We've previously ranked Incredible Adventures Small-Group Yosemite Tour from San Francisco as one of the best Yosemite tours.
As fun as that one day tour is, we definitely think travelers should consider this 3-day camping trip as a unique way of seeing Yosemite.
This Yosemite bus picks up near many Union Square hotels and shuttles guests to Yosemite. Camping equipment and fees for tents are included, except for sleeping bags. However, if you weren't planning on traveling with a sleeping bag, one can be rented for $20.
You'll spend two nights at your campsite and will have Yosemite guided hikes and free time during your stay.
---
CROSSROADS TOURS & LIMOS from San Francisco to Yosemite
4. Yosemite and Glacier Point Tour from San Francisco by Train
---
Cross Roads Tours & Limos helps arrange your San Francisco to Yosemite train and reserves your overnight lodging.
This multi-day Yosemite tour begins from the Amtrak Transbay Terminal in the SOMA neighborhood.
You'll enjoy a scenic train ride through California's Central Valley. All of the extra windows on the Observation Car will offer incredible views as the Yosemite train chugs along past Glacier Point.
You'll disembark in Fresno, where you will be shuttled to sleeping accommodations.
The next morning you'll join a small shuttle bus to explore parts of Yosemite normally closed off to bigger tour buses. After your Yosemite bus tour, you'll break for lunch and have free time to hike on your own.
At the end of the second day, you'll be dropped off to meet your train back to San Francisco.
P.S. don't forget to check out our popular San Francisco tours while you are in town!
---
Muir Woods and Alcatraz are also stunning California national park sites! Once you get back from Yosemite, be sure to check out our 1-Day Alcatraz Experience to discover these amazing sites at their best.
Looking for more adventures on your trip to San Francisco? Check out our one-day trip to scenic Carmel and Monterey, or our Ultimate Napa and Sonoma Wine Tour exploring some of the most gorgeous regions of Central and Northern California.
Book The #1 San Francisco Combo Alcatraz Tour
---
Looking for some fun things to do in San Francisco?
50 Best Things to do in San Francisco
Best Yosemite Tours from San Francisco
Discover San Francisco like never before! Join our Explore S.F. group on Facebook, your ultimate guide to the city's best-kept secrets. From local tips to monthly adventures, this is where your journey begins. Click here to join and start exploring!