Why You Should Consider San Francisco Private Tours
The biggest (but not the only) reason people consider taking a private San Francisco tour is because of the cost. This might seem a little contradictory at first. But, anyone traveling in a larger group can find San Francisco private tours to be more affordable than public San Francisco tours. 
It's really just a numbers game. Our most popular Dylan's Famous Tour with Muir Woods, starts off at $115 — not including gratuity. Tipping can be a taboo subject, even here in the States where it's common. But, if you had a blast with your local tour guide, it's typical to tip $10-$20 per person at the end of San Francisco tours. If you didn't have a blast, then tipping definitely isn't expected (and we really want to hear from you — shoot us an email at info@dylanstours.com).

That same route is available as a seven hour San Francisco private tour beginning at $840 (including gratuity) in our 9 passenger minivan. If your group has 10 or more people, you can hop on one of our 14 passenger minibuses for San Francisco private tours for $1,300 (including gratuity). But San Francisco private tours aren't just for big groups! Check out six other reasons you might want to consider booking San Francisco private tours.
WHO ARE SEVEN HOUR SAN FRANCISCO PRIVATE TOURS FOR?
Anyone who wants more time to explore Muir Woods or more time for a quiet lunch
SF private tours like this offer a lot of flexibility with the hour long breaks to see the redwoods of Muir Woods and for lunch along the Sausalito waterfront. Some people choose to shorten their Muir Woods hike to enjoy lunch at a sit-down restaurant in Sausalito — or vice versa. We've even had travelers who ditch Muir Woods or Sausalito all together to spend more time exploring (or shopping) during the San Francisco city tour part of the day.
Anyone who NEEDS to walk down The Crooked Street NEEDS San Francisco private tours!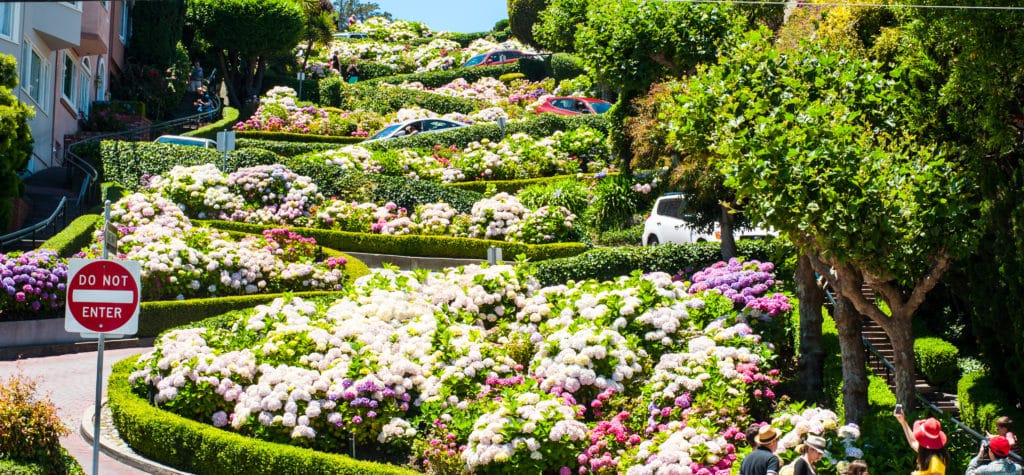 Lombard Street has been closed off to all tour buses since the early 1980s. We missed our window by a few decades, sorry! Our San Francisco private tours can't drive you down Lombard, but what we can do, is take you as legally close as possible for tour buses and then let you off to hike (and we mean HIKE) up Russian Hill to get the best view of The Crookedest Street in the World. SPOILER ALERT: Technically, there's an even crookeder street here in San Francisco, but the view in comparison is pretty "meh".
Babies!
This private tour of San Francisco and Muir Woods  is surprisingly popular with travelers that have infants. Past guests have loved having the extra room to spread out — especially when it comes to any baby accidents. We've also learned that most babies on San Francisco private tours enjoy listening to The Beach Boys when they get fussy.
Bachelorlette parties and Bachelor parties also have a blast with this private tour!
 In California it is very, very, VERY illegal to drive around with open containers. Unless… Unless you have a special license that allows for those kinds of shenanigans ? We even have a special open air party bus that's perfect for blasting your favorite tunes while you cruise through your San Francisco private tour.
Kids!
 Did we just put children on here twice? Yup. Most of our tour guides are born and bred right here in San Francisco. Which means we know where the best parks are! Sometimes the perfect stop for San Francisco private tours is at the unofficial backyard of San Francisco, Mission Dolores Park. Kids on our private tours of San Francisco have LOVED stopping here to roll down the grassy hill and onto the recently remodeled playground. And the grown ups? They usually stay at the top, admiring the view of downtown San Francisco.
Anyone who grew up watching Full House (or now Fuller House)
For anyone of our international readers, Full House was a popular American tv show in the 80s and 90s — but it never really picked up outside of the States. Fair warning, just like The Crooked Street is off limits to tour buses — so is The Full House House. Both of them. Yes, there are two houses. One house if from the opening credits, it's an iconic Painted Lady that sits at Alamo Square Park with the San Francisco skyline behind it. If you ask us (and we get asked this a lot), this is The Full House House. It's the most recognizable of two houses. The other house, about 10 mins away, is actually owned by one the Full House creators. This is the red house the Tanner family is filmed is always filmed walking into. Except it isn't red. And the entire neighborhood around this home hates Full House. And tour buses.
Discover San Francisco like never before! Join our Explore S.F. group on Facebook, your ultimate guide to the city's best-kept secrets. From local tips to monthly adventures, this is where your journey begins. Click here to join and start exploring!