Fall in Love with San Francisco: Unique Date Ideas for Every Season
We're inviting you to fall in love with the beautiful city of San Francisco, no matter what season it is! This city was practically built for romance, and packed to the brim with unique date ideas for couples in San Francisco. It has an endless selection of gorgeous parks for summertime picnics, and beaches for sunset watching. Landmark destinations and their unique neighborhoods provide for so many explorations on bus, bike, or foot.
The winding streets of colorful and charming houses never cease to provide the ideal setting for a romantic date! Opportunities to share new exciting moments with your loved one even extend past the city's boundaries and into nearby romantic getaways for the perfect day trip. Read on to find out about the many perfect date ideas for couples in and around San Francisco, any time of the year. 
San Francisco Date Ideas: Nature
The "7×7" cityscape isn't only just concrete and skyscrapers. One of the most lovable aspects about San Francisco is the abundance of nature to be found around every corner! From enormous parks with points of interest around every corner, to beaches perfect for a sunset stroll, couples living in the city have endless options for San Francisco date ideas.
San Francisco Park Dates
San Francisco is known for its massive selection of parks, with over 220 to choose from to lay down a picnic blanket and enjoy! A classic and romantic San Francisco date idea is to appreciate a nice day in one of these parks, and here is a convenient list of our favorites to choose from. Read on to find out more about these famous parks, their natural beauty, and how to get to them.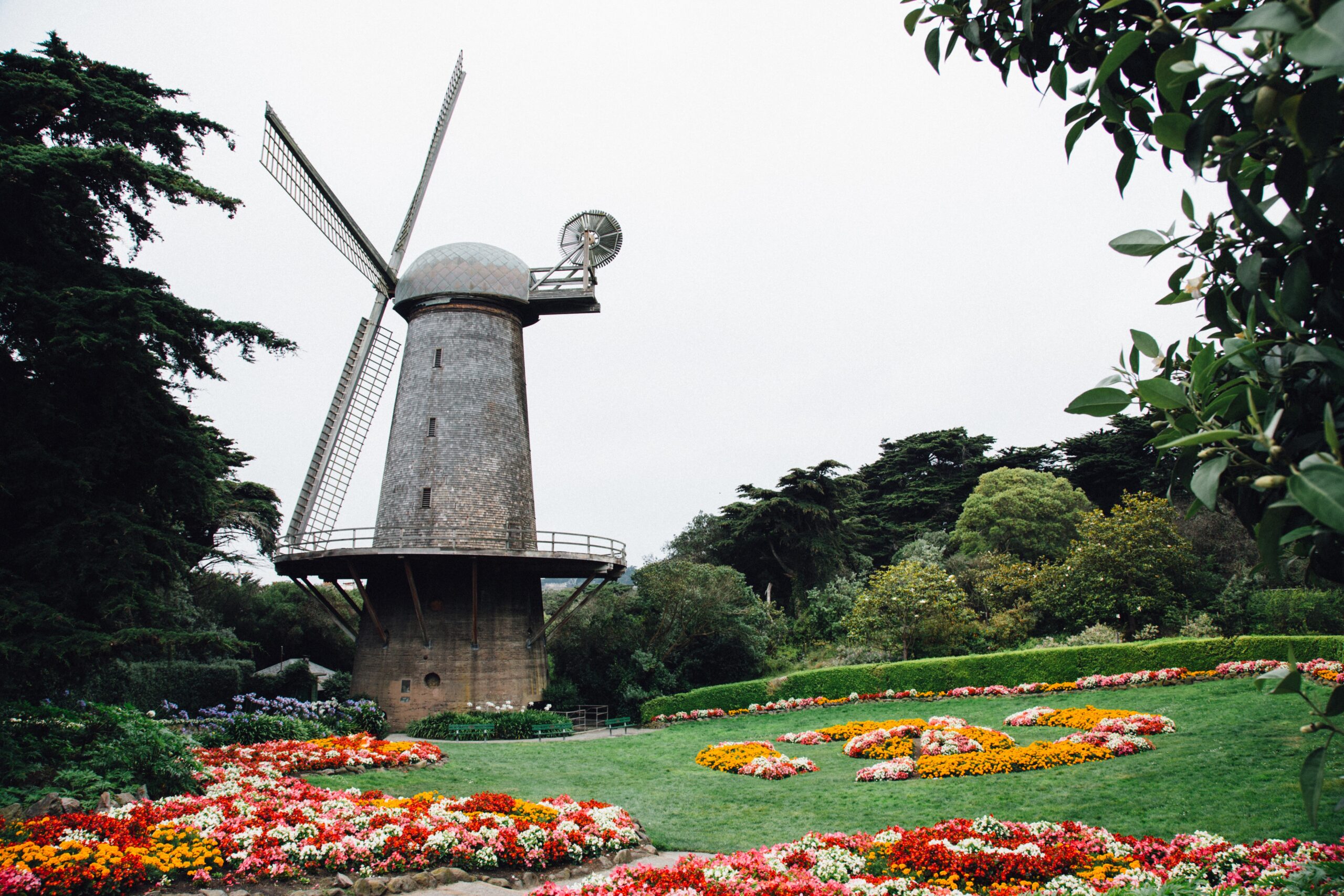 Golden Gate
Each park in San Francisco undoubtedly has something to offer, but of course we can't start the list without naming off the worldwide favorite: Golden Gate Park! This iconic destination boasts over 1,017 acres of lush landscapes, lakes, and gardens. It truly has something special for everyone. You simply can't go wrong with renting a bike and cruising your way through its pedestrian-only streets to one of the many exciting points of interest to choose from.
Enjoy some gorgeous sights and scents in the rose garden, Conservatory of Flowers, or botanical gardens. Find tranquil moments together in the Japanese Tea Garden, where you can also grab a delicious matcha cheesecake for two! Be sure to check out their amazing gift shop too, where you can find a selection of souvenirs to bring home. Rent out a paddle boat on Stow Lake, where flora and fauna await to be admired amidst the calm waters. There's even a 150-foot tall ferris wheel, and a carousel situated right next to a children's playground. This means the little ones will still be able to have fun while parents enjoy their time together! Golden Gate Park is the ideal date destination for anyone, any day of the year.
How to get there
There is a free park shuttle that operates seven days a week, including routes from Haight and Stanyan streets, along JFK drive, to Transverse drive, with stops along the way at some of the park's popular attractions. Of course public transportation can get you there too, via a wide selection of MUNI lines to choose from. If you do plan to drive, keep in mind that there is a car-free route running from Stanyan Street at the east end of the park to Ocean Beach and the Great Highway at the west end. Our favorite way to explore the park on a date is by far the most exciting option– renting bikes together!  
Choosing an e-bike rental makes seeing San Francisco a breeze! Enjoy a self-guided e-bike tour cycling through the city's best neighborhoods and landmarks. Our electric bike rentals make it easy check every item off your SF bucket list.
Alamo Square 
Alamo Square is home to the most quintessential scenes of the city, including the famous "Painted Ladies" of Postcard Row. You probably recognize this famous hilltop for its appearances in film productions, such as the family-favorite sitcom "Full House". With plenty of adorable dogs to admire, this park is the perfect place for a charming sunset stroll.
How to get there
As with many of the parks in the city, there are plenty of bus stops nearby that connect from BART and MUNI lines, so getting there is a breeze. Don't forget your camera, though!
Explore San Francisco's top neighborhoods and landmarks and walk among some of the last remaining coastal Giant Redwoods at Muir Woods National Monument on our Famous minibus tour.
After the 8:00am tour, you can choose to add on Alcatraz tickets to finish off your day or explore even more of San Francisco with one of our e-bike rentals. Choose the 2:00pm tour option, and you have the bonus of visiting the gorgeous Painted Ladies (the Full House Houses) on your tour!
Mission Dolores 
Set in the heart of one of San Francisco's most vibrant and culturally diverse neighborhoods is Mission Dolores Park. It encompasses nearly 16 acres, and is widely known as one of the city's most popular parks. People come to play, picnic, lounge, take the dogs for a walk, and enjoy spectacular views. It also has a soccer field, six tennis courts, one basketball court, a multi-use court, a playground, and two off-leash dog play areas. So, it's safe to say that there are plenty of opportunities to have fun with your date here! Not to mention that it's the perfect spot to meet up and people watch before heading off to enjoy the many eclectic offerings of the Mission District.
How to get there
Mission Dolores is easy to get to with many buses nearby, as well as regular service from the J light rail and BART blue and yellow lines a few blocks away. If you need to park, though, there is usually street parking within the neighborhoods surrounding the area.
Presidio
The Presidio is a national park site unlike any other, making it the perfect date spot for couples in San Francisco. It is conveniently situated between two breathtaking locations– the Golden Gate Bridge and the Palace of Fine Arts. It has four main sections: The Southern Wilds, Main Post, Golden Gate and Crissy Field. Each has its own share of places to grab a bite to eat, historic spaces like museums and lodges, stores to browse in, and of course, nature to enjoy!
How to get there
The free PresidiGo Shuttle runs weekdays, and Muni and Golden Gate Transit both serve popular destinations. Paid parking is available around the park, and you can also always rent a bike for even more freedom to decide which way you'll go next!
Twin Peaks 
 At 922 feet in elevation, Twin Peaks is a wonderful place to revel in the spectacular views after climbing to the top with your date. Skateboarders, bicyclists, and street performers can be seen enjoying this park with a view. From here you can spend time pointing out the popular landmarks of the city together, or look for the famous light blue, quarter-sized Mission Blue Butterfly in the park's rocky grasslands! It is a unique 360-degree view of the city that everyone needs to see at least once.
How to get there
Parking is widely available off of Crestline Drive and there is a small parking lot near the Christmas Tree Viewing Area. Muni line 37 stops along Crestline Drive and Muni line 48 stops along Portola, in the case that you are feeling extra adventurous and want to hike all the way up! The hike takes about an hour, so be sure to pack some water and snacks!
McLaren Park
McLaren Park is a beautiful option for a date in San Francisco, being that it is the city's second largest park! It offers a wide range of both active and passive recreational opportunities to enjoy together. Trails and paths guide the way to five different picnic areas, tennis and basketball courts, natural areas, reservoirs and lakes, among other amenities! Sweeping vistas of downtown San Francisco, the East Bay and San Bruno Mountain provide a different viewpoint of the Bay than any other park nearby.
How to get there
There are multiple parking lots available, as well as bus lines to hop off nearby. 
Choosing an e-bike rental makes seeing every park in San Francisco a breeze! Enjoy a self-guided e-bike tour cycling through the city's best neighborhoods and landmarks. Our electric bike rentals make it easy check every item off your SF bucket list.
Beach Dates 
The rugged and beautiful coastline of San Francisco never gets old to locals, and it's even better on the sunny days, when people come out to catch some rays! Fog or shine, though, it is truly a gorgeous setting to spend time with your date and enjoy the scenic views. From the epic ruins of the Sutro Baths to the beaches poised right at the base of the Golden Gate Bridge, San Francisco's beaches provide a romantic date experience. Read on to learn more about the city's most favorite beaches and how to get to them. 
Lands End
At every turn of the trail on this wild and rocky northwestern corner of San Francisco, there is another stunning view. Grab your date and enjoy the hillsides of cypress and wildflowers, views of old shipwrecks, access to the epic ruins of Sutro Baths, and pocket beaches to have all to yourself! There are many trails to choose from and enjoy the natural beauty on the oceanic edge of the city.
How to get there
We suggest getting there by public transit, but there are some paid parking sites available at the Sutro Baths. 
Baker Beach 
Stretching a mile below the rugged cliffs on the Presidio's western shoreline, Baker Beach's spectacular views of the Golden Gate Bridge and Marin Headlands across the bay are unbeatable! Picnic areas are readily available with tables and grills provided. Hiking couples can also pick up the Coastal Trail on the cliffside. If you and your date are open to the idea, there is even a clothing-optional area for sunbathers on the northernmost end of the beach. 
How to get there
Baker Beach is the most iconic option for a sunset date in San Francisco, and it can be tough to find parking on those summery days, so we suggest taking public transit!
Ocean Beach
Ocean Beach, San Francisco is where the city really meets the ocean. It spans six miles long along the entire Sunset District, adjacent to Golden Gate Park. So, needless to say, there are endless options for San Francisco date ideas on this expansive beach's sands! It's great for strolling and flying kites, and since the Great Highway has been closed on the weekends for pedestrian traffic, lots of people have gathered for bike rides, roller skate dates, or just classic sunset walks together.
How to get there
There is plenty of parking in the neighboring streets, and the light rail L line stops right out front of some cute shops and grocery stores to pop into before having your beach date. Biking there is also the top choice here, since you can ride for miles along the Great Highway together! 
Crissy Field Beach 
Crissy Field Beach is a gorgeous date destination, fog or shine. It is part of the Presidio Park which we mentioned earlier, and you'll find lots of picnic tables, acrobatic kite surfers to admire, and dogs and their owners jogging along the Golden Gate Promenade. Not to mention the stunning backdrop of Golden Gate Bridge! A must-see stop for a birdwatching date is Crissy Marsh. From there you can continue on the Golden Gate Promenade towards the Golden Gate Bridge, and reward yourself with refreshments from the Warming Hut Park Store and Café.
How to get there
Biking, roller skating, walking or catching the MUNI 30 bus are the ideal ways to get to this romantic beach.
Landmark Destinations
Locals and tourists alike all flock to the many different and historical landmarks of San Francisco. They are what define each neighborhood, providing a unique experience with a visit to each different one. Learn about the history of San Francisco by making your way to any of these landmarks in the city with your date, and you're sure to have a wonderful time! Read on to learn about the most iconic San Francisco landmarks, their history, and how to get there. 
Golden Gate Bridge 
The treasured landmark known as San Francisco's Golden Gate Bridge is acclaimed as one of the world's most beautiful bridges. This makes sense, given its status as one of the seven wonders of the modern world! It opened in 1937 and stretches 1.7 miles long, anchored by towers that reach 746 feet skyward. That being said, it is a sight to behold from its pedestrian and bike-friendly sidewalks during daylight hours. Vista points are located on both the north and south sides of the bridge with scenic views of the Bay.
How to get there
We among many others recommend taking your date on one of the most classic San Francisco adventures– a guided bike ride across the golden gate bridge! You can reach the Golden Gate Bridge from downtown and Union Square on Muni. Take the #38 bus westbound to Park Presidio Boulevard. Transfer to the 28 bus northbound to get to the Golden Gate Bridge. If you're taking a Golden Gate Transit bus from downtown, the 10, 70, or 80 lines will take you to the bridge. The free PresidiGo Shuttle's downtown route will also take you to the welcome center, and there are parking lots at both vista spots on either side of the bridge. 
Take our Famous Tour with Muir Woods + an e-bike rental for the rest of the day! Enjoy a scenic tour of San Francisco and Muir Woods with a lunch stop in Sausalito. In the afternoon, take a scenic self-guided bike ride to the Golden Gate Bridge and the rest of the city.
Alcatraz Island 
If you and your date are looking for a unique date in San Francisco, and have a liking for some dark history, this is the place for you! Situated on a rocky outcrop within San Francisco Bay, the mysterious Alcatraz Island was once a fort, a military prison, and a maximum security federal penitentiary. It contains a complex history and natural beauty that is available to explore, and it is now recognized as one of the most popular tourist attractions in the Bay Area. People come from all over the world to learn stories about the most famous inmates such as Alphonse "Scarface" Capone, George "Machine Gun" Kelly and Arthur "Doc" Barker. Not to mention that the island is surprisingly beautiful, despite its treacherous past.
Alcatraz Island is now home to historic gardens, tide pools, bird colonies, and amazing views of the Bay that you can't find anywhere else! There are a few minor things to note about getting to Alcatraz Island while you plan your date. The first is that there isn't food available except for the dry snacks in the bookstore, so plan to bring lunch along with you if you are going to stay a while. The next is that tickets do sell out, particularly during peak travel times, so it's worth booking in advance. The Early Bird Tickets and the Day Tours include the cell house audio tour, and other tours will be available when you arrive. There is even a night tour option, which adds to the all-around spooky vibe.
How to get there
All access to the island is through a private ferry company under contract with the National Park Service, Alcatraz City Cruises LLC. We recommend booking a tour that includes tickets to Alcatraz Island like this one, so you have your tickets secured!
See it all in one day! Explore San Francisco, Muir Woods, and take the official Alcatraz tour with tickets included at the end of your tour with Dylan's. BOOK NOW to reserve your spot on this bestselling tour!
Lombard Street
Lombard Street, aka "San Francisco's crookedest street", is a top activity for a fun date exploring the one-of-a-kind offerings of the city. Its one-block section featuring eight hairpin turns makes it the destination to experience for visitors in car, on bike, or foot.
How to get there
Take your date here as a stop on an E-bike ride together, so you can explore other destinations nearby like San Francisco's Maritime National Park, Fort Mason, Fisherman's Wharf, or Coit Tower. You can also get here by the Hyde Street cable car for that classic San Francisco city experience, or via muni bus 30. E-bike rentals offer a convenient and enjoyable option to visit Lombard Street and discover other iconic landmarks in the city!
Don't miss out on our e-bike rental experience! Our introductory experience provides the freedom to explore Lombard Street—the 'crookedest street' in San Francisco, the city's 'steepest street,' famous Coit Tower, and other notable and historic locations.
Coit Tower
Why not pick your date destination by just pointing at the iconic symbol of San Francisco's skyline and making your way there? The Coit Tower, also known as the Coit Memorial Tower, has been a must-visit in San Francisco since its completion in 1933. It's the legacy of San Francisco resident Lillie Hitchcock Coit. When she died, she said, "I left funds for the purpose of adding beauty to the city which I have always loved." And so the city decided to build the treasure that is the Coit Tower, which was designed by Arthur Brown Jr. and Henry Howard. The reason it is so popular is because of its incredible views. The tower rises up from the top of Telegraph Hill, and from the observation deck you have an unbeatable view of San Francisco to share with your date!
How to get there
Before heading up to the tower, make sure to grab something to eat and drink, as the walk can be a bit intense due to the steep hills. Allocate around half an hour to explore the Coit Tower and take in the breathtaking scenery. If you plan to ascend the Coit Tower, we recommend setting aside one to two hours to fully immerse yourself in everything the tower has to offer. Inside, you'll find a series of fresco murals by some 30 local artists, depicting life in 1930s San Francisco.
Please note that the parking lot outside of the Tower is reserved for area residents only. On weekdays, you're allowed to park in the lot for 30 minutes, but the waits can be quite lengthy. We recommend reaching the tower on foot, or even better, by renting our e-bikes. This option provides an excellent opportunity to explore the city before and after your visit while avoiding the parking hassle.
The Ferry Building 
This historic waterfront marketplace is ideal for a taste-testing date in San Francisco! If you're looking to sample some of the best food in the city all in one place, this is the one. The Ferry Building Marketplace has become the heart of the San Francisco foodie scene and a vibrant gathering place for local community. You'll have plenty of dining options here, with just a sampling being Italian, seafood, Vietnamese, Mexican, burgers and fries, ice cream, and specialty coffee! The market is housed in the historic Ferry Building, which first opened in 1898. If you visit on Thursday or Sunday before 2 pm, don't miss the farmer's market for more farm-to-foodie finds!
How to get there
The Ferry Building is located where Market Street meets the water on the Embarcadero. It's easy to get to via public transport (MUNI or BART) at the Embarcadero station just across the street. Or, you can opt to take a beautiful ferry ride from one of the surrounding cities such as Oakland, Alameda, Berkeley, and Larkspur. Parking can be difficult and pricey downtown, so we recommend traveling on an E-bike or by foot. But if you need to drive, valet parking is available at the Ferry Building Monday through Friday, if you don't mind spending the $15 per hour. 
Fishermans Wharf
Another fun and romantic date idea for couples in San Francisco is to visit Fisherman's Wharf. Being one of San Francisco's most popular tourist areas, Fisherman's Wharf offers countless opportunities for sightseeing and entertainment. You can enjoy views of the sea lions of Pier 39, play the antique arcade games at Musée Mécanique, or enjoy the Ghirardelli Chocolate Experience together at Ghirardelli Square.
How to get there
It is very easy to take the muni bus to Fisherman's Wharf. If you are departing from Union Square, you can simply take bus 30 to Van Ness and North Point Jefferson Loop. Muni's F-line streetcar, departing from Ferry Building at the Embarcadero, will also take you directly to the heart of Fisherman's Wharf. Cable car is a fun way to consider getting there, too. There are two lines that run from Union Square (Market Street) to Fisherman's Wharf– the Powell-Hyde line and the Powell-Mason line.
Renting an E-bike is an excellent option if you want to explore at your own pace. You can rent a top-rated electric bike with an easy-to-use motor assist for conquering any steep hills without breaking a sweat! If you choose to rent from Dylan's bike shop, you're only a short 5-minute bike ride from North Beach to Fisherman's Wharf. The roads to Fisherman's Wharf are mostly bike lanes, but if you are nervous about biking the streets yourself, you could choose to book a private guided tour instead. This bike tour will help you explore all of the best neighborhoods of San Francisco! Another great option for a date is going on a bus tour that stops in this famous area. 
We have been leading fun and safe E-bike tours through the streets of San Francisco since 2010. Explore areas off limits to tour buses on this scenic electric bike tour!
Palace of Fine Arts 
Romance thrives in architecture like this; it was practically made to be the date spot for couples in San Francisco! Inspired by Roman and Greek architecture, the Palace of Fine Arts was originally constructed to celebrate San Francisco's recovery from the 1906 earthquake. Now it serves as a famous serene landmark surrounded by gardens and natural beauty, making it the perfect spot for special events, weddings, photographers of all kinds, and of course… Dates! The grounds are free to visit and there is plenty of green grass to picnic on and admire the beauty of the lagoon's wildlife and iconic rotunda.
How to get there
It's located in a wonderful spot on the edge of the Presidio in San Francisco, and there is parking nearby in the neighboring streets. Muni makes this area easily accessible as well, and it's nearby to many other attractions like the waterfront, where you can watch the sunset or catch a glimpse of the infamous Alcatraz Island. We suggest renting a bike or taking a bus tour, since it is so much fun to ride around this area of San Francisco and learn about all of its fascinating history. Check out Dylan's Famous Tour with Muir Woods to truly get the full experience of San Francisco's top neighborhoods and landmarks!
This tour is famous for a reason; you get to see the most iconic sites of San Francisco, including the Golden Gate Bridge, Fisherman's Wharf, Palace of Fine Arts, Chinatown, and so much more, in addition to exploring the extraordinary Giant Redwoods of Muir Woods. Departures are available at 8:00am and 2:00pm daily. Our Famous Tour is the best way to see all of San Francisco in a day!
Museum Dates
With 54 awe-inspiring museums to choose from in San Francisco alone, it's no surprise that they serve as a classic and unique date idea for couples in San Francisco. Rain or shine, these museums will be waiting for you to come explore their art, history, science, nature, or culture! Couples in San Francisco are going to want to read on to learn more about a selection of our favorites, what to expect, and how to get there. 
SFMOMA
The San Francisco Museum of Modern Art is one of the largest museums of modern and contemporary art in the United States. Here you can discover artists from the Bay Area and around the world, which makes for a unique date in San Francisco's SoMA district. By either taking an "immersive walk" audio tour with the SF MOMA app together, or darting around to find the series of Warhol pieces you've been dying to see, you're sure to have a fantastic time!
The SFMOMA can be packed to capacity on prime days, particularly the weekend. We recommend buying your tickets online so that you don't have to wait in long lines. Since most of the museum contains major hits, no single section is particularly packed– aside from visiting exhibits. Those require a separate ticket and are in an enclosed gallery, so expect lines to get in! Of course they're worth it, though.
You also have to save time to explore the gift shop together, which sells items related to the exhibits (pens, postcards, posters and the like) in addition to other odds and ends, including jewelry made by local designers, kitchenware, and other unique art pieces. Sightglass server their legendary coffee on the third floor, and up on the fifth floor, Cafe 5 serves light california fare. On a nice day, you and your date can enjoy your lunch sitting on the rooftop among the outdoor sculpture garden!
How to get there
If you're coming by car, SFMOMA's garage at 147 Minna Street is a few steps away from the museum's entrance on Third Street. Parking onsite directly supports the museum and its programs. Members receive a 25 % discount and non-members are offered a 10 % discount at the Haas Jr Atrium on Floor 1 for validation. Otherwise, parking is $4 per 30 minutes. The museum is located nearest to Powell Street and Montgomery Street BART and Muni Light Rail stations. Bus stops are located nearby as well. Limited bike parking is available near the museum's entrance at Howard Street, next to the large outdoor staircase. 
de Young
If you're looking for a sophisticated date with a beautiful view of Golden Gate Park, look no further than the de Young Museum. Opened in 1895, the de Young is home to American art from the 17th century through today, textile arts and costumes, African art, Oceanic art, and international contemporary art. It is compact and easy to visit in a few hours, and they have a small on-site café that can get a bit busy at lunchtime and during special exhibitions. Special exhibits rotate throughout the museum's schedule, and are highly recommended to reserve with a ticket!
How to get there
Muni's 44 O'Shaughnessy, 5 Fulton, 21 Hayes, and N Judah streetcar all stop within walking distance of the entrance. If you're driving, there's a parking lot at the Music Concourse and free on-street parking throughout the park. Golden Gate park is closed on some streets, and entirely closed to car traffic every sunday, so we suggest renting an E-bike so you can see the museum as well as many of the other beautiful parts of the park with little effort! 
Legion of Honor 
Single- admission tickets to the previously mentioned de Young museum offer same-day admission to its partner fine arts museum, the Legion of Honor (and vice-versa). Why not see both on the same day for an exciting museum-hopping date in San Francisco? This outstanding collection of European art in a gorgeous hilltop museum setting is a sight to behold. Plan to give yourself at least 1-2 hours to really appreciate all of the fantastic architecture and artwork both inside and outside of the museum.
How to get there
While there is a free parking lot available, they offer ticket discounts for those who use public transportation to visit. Simply present your valid Muni FastPass or transfer to the cashier when purchasing your admission tickets for $2 off! SF's Muni 1, 38, and 18 all offer convenient stops nearby. Renting an E-bike is also a fantastic option! 
Academy of Sciences
 This one is a citywide favorite for a fun date in San Francisco. The California Academy of Sciences is the only place on Earth where an aquarium, planetarium, rainforest, and natural history museum all live under one living roof! Embark on an epic science adventure together from the heart of Golden Gate Park. Here you can admire African penguins, or their iconic albino alligator named Claude. Zoom through the cosmos in the immersive 75-foot planetarium and explore hands-on exhibits that showcase earth's dazzling biodiversity. It's endlessly fascinating and entertaining!
There is an Academy Café that offers an array of options to choose from during your visit. The gift shop contains exhibition-specific souvenirs or San Francisco-themed gifts like accent pillows featuring the San Francisco skyline and Claude(the famous albino alligator, as mentioned above). If you're looking to have a kids-free date in the city, the Academy offers their Thursday NightLife after-hours events for adults 21+. Visitors are in for a fun night of drinks, music, and science, with a new theme to choose from every week! Tickets sell out quickly, so we recommend purchasing them ahead of time to secure your spot. Some fun themes for this year include "Fungus Amongus" and "Noisepop Night", which has live local bands!
How to get there
If you take public transit, you can also receive $3 off daytime admission. Similar to the de Young Museum right across the street, there are plenty of convenient bus and metro lines nearby. Bike parking is also available. The Music Concourse Garage is an underground parking facility located steps away from the Academy's main entrance, but on weekends and holidays it fills up early.
Exploratorium
Looking for another educational and exciting museum to visit on a date in San Francisco? Couples with kids will love the Exploratorium located at Pier 15 in San Francisco, in the area known as the Embarcadero on Green Street. But this particular museum is so much more than the typical expectations of the word; it's an ongoing exploration of science, art, and human perception. Visitors of all ages can step inside of a tornado, turn upside down in a giant curved mirror, walk on a fog bridge, and explore more than 650 hands-on exhibits. With that many exhibits, you'll want to leave yourself at least 3-4 hours to have a blast!
The Exploratorium also offers stunning views of downtown and the San Francisco Bay. Conveniently located between the historic Ferry Building and Pier 39, it is just a short E-bike ride, bus, or walk away from any of these popular attractions: Fisherman's Wharf, the Alcatraz ferries, and Chinatown. There are dining options in the café or restaurant, as well as as a massive museum store to explore. Much like the California Academy of Sciences, this museum also offers an After Dark Thursday Night experience for ages 18+. Tickets are required for this event, as with all daytime admissions, so we advise getting your tickets early!
How to get there
There are ample public bike racks available on site, and it is just a 10-minute walk from the Embarcadero BART station. There are also numerous parking garages and lots near the museum. 
Asian Art Museum 
 The San Francisco Asian Art Museum has a massive collection of art to enjoy, spanning cultures from Turkey to India and China to the Philippines through 6,000 years. This makes it an especially interesting and awe-inspiring place to visit on a date in San Francisco. We suggest spending at least 2-3 hours here to learn and appreciate all of the superb paintings, porcelains, arms and armor, furniture, textiles, and bronze pieces available. They also have fantastic worldly exhibits that come through often, so be sure to inquire about those when you visit their website or in-person.
How to get there
It is located in the Civic Center neighborhood of San Francisco, making it easily accessible to BART and Muni lines. You'll want to get off at the Civic Center/UN Plaza BART station and follow signs to the UN Plaza exit. The museum does not have a parking facility, but there are two parking garages within one block of the museum: Civic Center Garage and UC Hastings Parking Garage. 
Cable Car Museum
A fun and lesser-known museum date idea for couples trying to ditch the crowds in San Francisco is the Cable Car Museum. Here you can learn about the history of the iconic cable car's heritage, from the first run in 1873 to the present. Learn about the inventor, technologies, builders, rapid expansion, near loss and the ongoing efforts to save and rebuild the cable cars of San Francisco. The museum houses a collection of historic cable cars, photographs, mechanical displays and a gift shop run by the Friends of the Cable Car Museum. And the best part is, admission is free! Their hours are small windows, so be sure to plan ahead so that you can get in.
How to get there
The Cable Car Museum is located in Nob Hill, nearby other exciting neighborhoods such as Chinatown and North Beach. It's definitely on the quicker side of museum visits since it's relatively small compared to the others, but it is so worth it to see such an integral part of San Francisco history!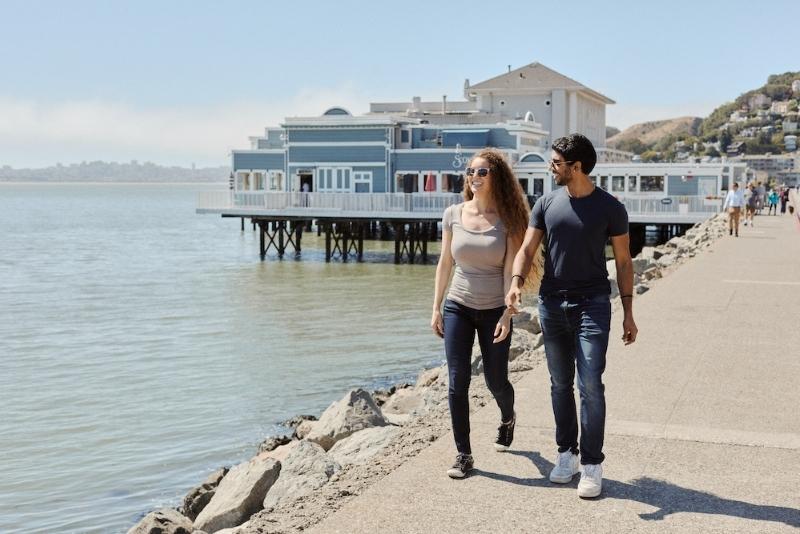 Romantic Getaways & Day Trips 
Couples living in San Francisco are lucky to be surrounded by so much beauty, both inside and outside of the city. Day trips make for the perfect romantic getaway when weather permits! Beautiful coastal areas all have something different to offer, and all you need is a car or a private tour booked and ready to go. Read on for a selection of the most desirable and unique destinations for a date leaving from the city of San Francisco. You'll also find what recommendations we have for when you arrive in each destination, too! 
Sausalito 
The charming town of Sausalito is only a short trip across the Bay, making it the perfect destination for couples looking for a romantic getaway in San Francisco. Be sure to add this one to your Bay Area Bucket list! Lots of people say that it even has some Amalfi Coast vibes to it, with rolling hills of colorful seaside houses and stunning views reflected across the calm waters. If traveling abroad isn't in the cards for you right now, a date in Sausalito might be the next best thing! It is also a very walkable location.
Once you arrive in its quaint downtown area with adorable local shops and restaurants along the waterfront, you will easily be able to park your car or e-bike and get around most of the town on foot. There are plenty of art galleries, boutique stores, artisan-crafted jewelry shops, homemade fudge and ice cream, and other unique finds to explore. To top it all off, you can enjoy a lunch or dinner with an incredible view at one of the waterfront's restaurants. Be sure to check out the community of colorful famous floating homes and admire their history spanning back to 100 years!
How to get there
A great way to explore as much as you can of this beautiful town along with other iconic Bay Area locations is by booking a tour. This way you can get an adventure-packed day of three of the best Bay Area attractions: Sausalito, Muir Woods, and Alcatraz. The best part about this option is that it's hassle free! You don't need to worry about any of the planning or transportation to enjoy these destinations. The tour company will take care of everything for you! You could also drive to Sausalito, and it should take about a half-hour to get there from San Francisco. There is metered parking downtown, or you can pay to park are one of the four parking lots. The rate is around $4.00 per hour.
If you and your date are longing for some more adventure, you can rent an E-bike and cruise across the Golden Gate Bridge to Sausalito. There's simply nothing like appreciating those Bay views from the iconic bridge! Another option is taking the scenic route to Sausalito, and arriving by Ferry boat. This is a romantic idea– imagine enjoying a glass of wine and relaxing with those beautiful views of the Bay! You can catch the Ferry from the Ferry Building in San Francisco. The ride is about 30 minutes and it will drop you off right in the middle of Downtown Sausalito. Lastly, bus options are available through Golden Gate Transit and Marin Transit bus services.
Take our Famous Tour with Muir Woods + an E-bike rental for the rest of the day! Enjoy a scenic tour of San Francisco and Muir Woods with a lunch stop in Sausalito. In the afternoon, take a scenic self-guided bike ride to the Golden Gate Bridge and the rest of the city.
Pacifica
An extra-quick day trip option for couples in San Francisco is a visit to the lovely beach town known as Pacifica! Some may only know it for its famous Taco Bell located right on the sands of the state beach, but there is so much more to explore. It is also home to some amazing surfing, hiking, horseback riding, eating, drinking, and lots more.
If you and your date love the ocean and want to catch a thrill, sign up for a surf lesson! From beginner levels to more advanced, and long boarding to short boarding, there are options for all. The Mori Point hiking trail is also a great viewpoint for a breathtaking sunset, or if you're lucky, a whale spotting! There are some delicious oyster options for dining as well as world-renowned BBQ served out of a train-car joint called Gorilla BBQ. End out your day with some bowling at the iconic spot known as Sea Bowl, who have been serving delicious onion rings and beers to bowlers for five decades.
How to get there
Pacifica is located on the famous Highway 1, and is only 15 miles from the heart of San Francisco. For this reason we recommend driving, renting a zipcar, or hiring a rideshare service such as Uber or Lyft. 
Muir Woods
There's nothing better than a date out in the Bay Area's plethora of nature, providing the perfect break from the hustle and bustle of San Francisco. Walk amongst thousand year old trees in a dense redwood forest just a few minutes north from San Francisco in Marin County. Muir Woods attracts visitors from all over the world to come shut their eyes and breathe in the clean, fresh, and fragrant air from the red tree bark and mist. This is simply one of the most majestic and awe-inspiring destinations for a date that the Bay has to offer!
With 558 acres to explore of some of the last remaining redwoods in California, this national monument can be visited over and over again. Muir Woods is located across the Golden Gate Bridge in Marin County, near a tiny town called Mill Valley. This makes it the perfect day trip destination for anyone visiting or living the Bay Area! And for this reason, you absolutely need to plan ahead coming from San Francisco to Muir Woods. It is required that you have a parking or shuttle reservation to visit the woods.
How to get there
Expect the drive from San Francisco to take about 30-45 minutes, depending on which neighborhood you're coming from. Again, an important note to make is that you MUST reserve your parking spot in advance. Another great option is the shuttle service that serves three bus stop locations (all in Marin County) which you'll need to reserve in advance: Sausalito, Marin City, and Pohono Park & Ride. We suggest hopping on the ferry or riding on an E-bike from San Francisco to Sausalito, and transferring to the shuttle from there!
The easiest possible way to get from to Muir Woods from San Francisco is to join a Muir Woods Tour! This group tour option is best if you don't want to deal with the hassle of renting a car, or if you have missed out on the required advanced reservations. It provides the quickest and most efficient use of your time, and takes you directly from San Francisco to Muir Woods over the Golden Gate Bridge, with all of the planning done for you! Not to mention that you'll be able to see and experience even more of the Bay Area's most iconic locations, such as Sausalito, Fisherman's Wharf, Palace of Fine Arts, Chinatown, and so much more! Or, you can opt to choose a more concentrated tour like this one, which features a visit to Alcatraz. 
See it all in one day! Explore San Francisco, Muir Woods, and take the official Alcatraz tour with tickets included at the end of your tour with Dylan's.
Alameda 
Why not hop on the ferry with your date and enjoy a romantic boat ride across the Bay to the lovely town of Alameda? This area unassumingly offers incredible convenience with just enough activities to fill a day outside of San Francisco. It has plenty of fantastic restaurants to choose from, along with popular breweries to relax in. There is lots of historic architecture too, making it not so different from San Francisco after all!
Go on a Victorian house-hunt just by walking around the beautiful neighborhoods full of color and life. Nerd out at the Pacific Pinball Museum, where over 90 playable vintage pinball machines await you! The USS Hornet Museum is also a fascinating piece of history to experience. For Ghost Adventure fans, this venue was the subject of Season 3, Episode 2. It was used as an aircraft carrier in World War II through the Vietnam War, and it even hosts special ghost hunting tours during the month of October!
How to get there
The San Francisco Ferry is definitely the most scenic option to get to Alameda, and it really makes you feel like you're heading off on vacation! Be sure to check the schedule so you can plan your trip accordingly. Bus and BART are also both available, via the O Bus from Transbay Bus Terminal, and the Yellow or Red lines. You can also, of course, drive across the Bay Bridge to your first Alameda date destination!
Carmel & Monterey
A day trip to Carmel and Monterey is a beautiful option for those willing to travel a bit more outside San Francisco for their perfect date on the coast! Enjoy amazing views of the California coastline and Pacific Ocean on your way to two amazing towns with unbeatable cuisine, storefronts, and so much more. Visit Steinbeck's historic Cannery Row, or pop into the world-renowned Monterey Bay Aquarium to watch some otters in their habitat. Grab a delicious lunch at the historic Monterey Fisherman's Wharf, and then make your way through Pacific Grove down to the enchanting town of Carmel-by-the-Sea. Here you can admire the picturesque Tudor style architecture, go wine tasting, hike some incredibly scenic spots, or just shop around in the boutiques.
How to get there
Renting a car is highly recommended for getting to Monterey and Carmel-by-the-Sea. Monterey County lies about 2 hours south from San Francisco driving, depending on the route. If you want to go for a more scenic way along the CA Highway 1 (also known as the Pacific Coast Highway or the PCH), then plan that to take you about 3.5 hours. It can be a good idea to take the PCH on the way to Monterey and take the quicker route along the US-101 Freeway. If you want to go to Monterey County but don't drive — or simply don't want to go through the hassle of renting a car and going there independently, then the best option for you is to go through an organized tour.
There are a number of great day tours from San Francisco that take you all around the area and include the majority of the stops on this list (though not all!) so you can get a good feel for the towns. If you don't want to spend an arm and a leg and want a reliable and convenient way to get to the Monterey area from San Francisco, then we suggest booking this Carmel & Monterey Scenic Coastline Tour from San Francisco. Travel the winding roads, catching countless views of the rugged coastline and majestic beaches, stopping for visits to Monterey's historic Cannery Row, the quaint Carmel-by-Sea, and much more! 
Experience an impressive one-day tour to Carmel and Monterey, driving along the scenic California coastal highway, from San Francisco. Travel the winding roads, catching countless views of the rugged coastline and majestic beaches, stopping for visits to Monterey's historic Cannery Row, the quaint Carmel-by-Sea, and much more. BOOK NOW!
Half Moon Bay & Santa Cruz
Add these two towns to your bucket list of San Francisco date ideas, because they make for the perfect day trip! From Half Moon Bay, Santa Cruz is about an hour south (without traffic), but there are plenty of stops along the way to break up the drive. Try to visit on a weekday, and avoid holiday weekends. Also be sure to start your day early so you can enjoy the beautiful scenic drive! We suggest starting in Santa Cruz and exploring its iconic boardwalk, and then making your way up to the Natural Bridges State Park.
Be sure to check out Portola, whose colorful houses on the beach remind visitors of Italy's Amalfi Coast. Grab a slice of pie at Swanton Berry Farm, and hike on down to the Pigeon Point Lighthouse for some incredible views. You can even squeeze in a hike on the Half Moon Bay Coastal trail, if you don't linger in any spot for too long! Lastly, grab lunch at Sam's Chowder House or the Ritz Carlton in Half Moon Bay. There are plenty of options to choose from on this route down the California coast, so feel free to choose only a few of them!
How to get there
A car is required to take this route, so grab your camera and your partner and buckle up for an amazing time! 
Wine Country 
When people think of romantic getaways in the Bay Area, one of the first options that comes to mind is visiting California Wine Country. It is conveniently located just an hour and a half north of San Francisco, making it a haven for couples looking to escape the city life for a day and return relaxed, rejuvenated, and full of wine! California Wine Country is known for its impressively lush wineries scattered throughout the Napa and Sonoma valleys. And thanks to California's generally idyllic weather, the valleys welcome visitors year-round! There are endless wineries to choose from, along with boutique shops to explore, high-end restaurants and farm-to-table cuisine. Pair those things with the gorgeous scenery of rolling hills and blue skies, and you have the ideal date destination for couples in San Francisco!
How to get there
You'll want to rent a car to make the trip much easier on you and your date. But, in that case, who would be the designated driver? You could also ride public transportation, but we suggest using a ride-sharing service such as Lyft or Uber, for good measure. Our most agreeable suggestion, though, is to book a tour of California Wine Country. We recommend booking the Napa and Sonoma Wine Country Tour because of its affordability, laid-back and friendly atmosphere, and all-in-one package including winery visits in both valleys. It's also kid-friendly, so the whole family can enjoy the many local cuisines and beautiful sights together!
Want to discover the wonder of California Wine Country for yourself? Grab your partner or friends and enjoy a day of incredible wine tastings and gorgeous scenery on Dylan's Famous Napa and Sonoma Wine Country Tour. 
Yosemite 
While Yosemite is known for its grand size, it is surprisingly a very worth it destination for a day trip for couples in San Francisco! In just one day, you can see all the highlights of the park on a scenic drive of both Yosemite Valley and Glacier Point Road. The park is open all year, but most visitors choose to come in the warmer months from May to October. For that reason, consider visiting in May to early June or October to early November, to avoid the peak crowds. Yosemite Valley is the heart of the park and is 4 hours from San Francisco.
How to get there
You'll need to rent a car to get to the park and get around in a day. There is also a shuttle bus option that connects the popular parts of the park to Yosemite Valley, such as Mariposa Grove, Tuolumne Meadows, and Glacier Point. This is a good option, since parking in Yosemite can be difficult, particularly in the peak season from June to September.
The best way to beat the crowds is to start your day early! Visit Yosemite Falls, Cook's Meadow, Sentinel Bridge, the Swinging Bridge, and finish off at the Yosemite Valley Lodge for a well-earned delicious meal. This portion of the tour is best done walking, and from then you can hop in the car and visit scenic points like El Capitan, Tunnel View, and Glacier Point. Of course, if you're doing all of that in a day you will want to pack accordingly!
Bring layers, hiking boots, bug spray, and a camera along with you. And if all of that planning sounds like too much for you, then you really can't go wrong with letting a tour company plan it for you! This day trip bus tour takes you right from San Francisco to Yosemite National Park and its Giant Sequoias. It is the most trusted Yosemite tour for over 15 years, offering the most time in the park and the opportunity to experience a grove of giant redwood trees in California. 
Book an inspiring 1-day tour to Yosemite National Park and its Giant Sequoias from San Francisco. The most trusted Yosemite tour for over 15 years. This tour offers the most time in the park and the opportunity to experience a grove of giant redwood trees in California. Guaranteed departures every day of the year. Learn more!
Come Fall in Love With San Francisco! 
San Francisco and its surrounding areas have the best selection for unique date ideas in Northern California. From the natural beauty of the parks and beaches, to the historic landmarks that dot the city. Many hidden gems make for perfect San Francisco date ideas, like a day exploring a museum or riding bikes around the city to various destinations. Date ideas can even expand past the city's boundaries, into romantic day trip getaway destinations to relax and enjoy the peace and quiet away from the hustle and bustle! We hope that this guide to San Francisco date ideas was helpful, and you have added lots of inspiring ideas to your Bay Area bucket list with your loved one!
Discover San Francisco like never before! Join our Explore S.F. group on Facebook, your ultimate guide to the city's best-kept secrets. From local tips to monthly adventures, this is where your journey begins. Click here to join and start exploring!