Chinatown
San Francisco's Chinatown is a must-see when visiting the city! Keep on reading, and we'll tell you all you need to know about this richly-decorated neighborhood, including tips, events, and more.
San Francisco's Chinatown is the largest Chinatown outside of Asia as well as the oldest Chinatown in North America. This neighborhood is famous for its lively maze of streets and alleys, bursting with dim sum restaurants and other traditional eateries. 
The first Chinese laborers started to settle in San Francisco in 1848. As immigrants, they were often faced with violence and many neighborhoods did not want them. After finding a safe place in San Francisco, the area evolved, and shops were built around Sacramento Street. Nowadays, it is easy to spend the day here browsing the shops, bakeries, and even karaoke bars. There are richly decorated temples in this district, including the monumental Tin How, and the Chinese Historical Society of America Museum.
With almost 35,000 people living in only 24 blocks, Chinatown is the densest as well as one of the poorest neighborhoods in San Francisco.
How to explore San Francisco's Chinatown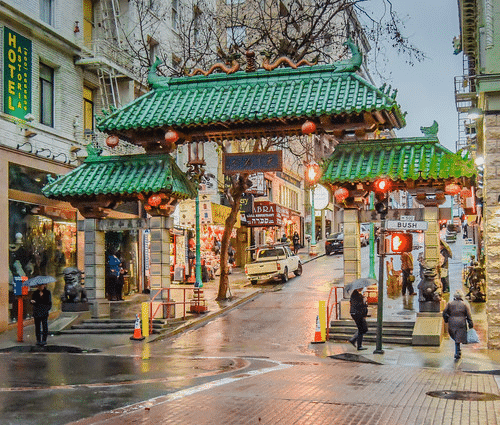 After entering Chinatown via the Dragon Gate, you'll find Chinatown is full of little decorated streets and alleys. Since Chinatown is only 24 blocks, you can pretty much walk everywhere. Don't just stick to the main touristy Grant Avenue and Stockton Street, but make sure to stroll through the smaller alleys as well! You might end up trying a free fortune cookie at the first-ever fortune cookie factory.
Not only is this neighborhood fascinating during the day, but after sunset as well. Most tourists will have left by now and lanterns light up the streets, creating a charming vibe.
And of course, you have to try some Chinese delicacies! Restaurants in Chinatown are extraordinarily delicious and reasonably priced. 
If you want to know more about the history and get all the best local insights about Chinatown, we'd suggest you hop on a guided tour! Dylan's offers guided minibus tours that drive through Chinatown, as well as private guided bike tours. While driving through the main streets in our minibus you'll hear all about the history of Chinatown, as well as getting some insight about the way the Chinese people live in this 24-block area. After exploring some other cool neighborhoods in the city, Dylan's will take you across the Golden Gate Bridge to a cute waterfront town called Sausalito and, depending on the tour you choose, Muir Woods National Monument. You can also choose to do an Alcatraz add on if you want the full San Francisco experience!
What to expect when visiting Chinatown
Being the densest area in San Francisco, Chinatown can be quite hectic. Supermarkets and sidewalks are crowded with locals doing their daily grocery shopping, tourists, and local women trying to bring you into their restaurant (which doesn't have to be a bad thing if you are hungry!). Be sure to check out the many souvenir shops alongside the local shops (which, again, doesn't have to be a bad thing!). 
Warning: Chinatown also has quite a few typical San Francisco hills, which will make your calves burn a bit.
We know, it sounds like it can be a bit much. But trust us! Once you get off the main streets, you can enjoy the beauty and tranquility that this neighborhood has to offer. Don't overlook the architecture and the meaningful murals you will find in Chinatown's hidden alleys.
What to visit while exploring Chinatown
The Chinese Historical Society
Adults (ages 19+) – $12

Children (ages 5-18), College Students, Seniors, and Military Members  – $10

Hours: Wednesday – Sunday, 11am-4pm
If you want to learn more about the history of Chinatown, you should visit the Chinese Historical Society. This building used to be the YMCA of Chinatown but is now transformed into a museum and cultural center that hosts exhibits that relate to the experience of the Chinese in San Francisco. 
Free

Hours: Always open to visit
Chinatown has a lot of entries, but try to enter the neighborhood via the Dragon Gate, or at least visit this monument. This gate was a gift given in 1969. The quote in Chinese says, "All under heaven is for the good of people".This much-photographed gate is the official entrance into Chinatown and just as an authentic entry gate, as seen in many Chinese towns. 
The Golden Gate Fortune Cookie Factory
Free 

Hours: Monday – Friday, 9am- 6:30pm

Saturday – Sunday, 9am- 7pm
This factory is located in Ross Alley. What is so unique about this factory is that this is the first-ever fortune cookie factory! The fortune cookie was invented in San Francisco in 1918 by David Jung. So if you are interested to learn more about this story or you want to try a freshly baked fortune cookie, be sure to stop by this place!
Free

Hours: Daily, 10am- 3pm
This is the oldest Chinese temple in all of America, founded in 1852. The temple is dedicated to goddess Mazu who has a special place in the hearts of Chinese immigrants. This is because the goddess Mazu is the empress of Heaven (Tin How) who protects seafarers. The temple is filled with statues, lanterns, candles and offerings of fruit.
This small temple can be found on the third floor of 125 Waverly Place. The entry is free, but a donation would be highly appreciated.
How to get to Chinatown
Before you can explore Chinatown, you first have to get there. Luckily, Chinatown is conveniently located close to public transport. Here are a couple of options for you to get you to Chinatown:
Muni buses – It is effortless to take the muni bus to Chinatown. Depending on where you are staying, there are multiple busses you can ride. If you are staying south of Chinatown you can take bus 1 to California. If you are staying in Union Square, you can take bus 30 to Stockton Street, 45 to Union/ Stockton, or 8 to Bayshore. If you are staying in Fisherman's Wharf, you can also take bus 30, 45 or 8 to get to Chinatown.
Cable Car – This tourist attraction is an enjoyable way to get to Chinatown. You can board in Fisherman's Wharf or Union Square. If you take the Powell-Hyde or the Powell-Mason line, you should get off at Washington and Jackson. The California Street line is also a perfect option. Get off at Kearny, and you are only two blocks away from Grant Avenue.
Dylan's bike rentals – Renting a bike to explore Chinatown is an excellent option if you want to explore at your own pace. You can rent a 7-speed bike or an electric bike at Dylan's' bike shop, which is only a short 5-minute bike ride from North Beach to Chinatown. But be aware, the roads in Chinatown can be busy! So if you are nervous about biking the streets yourself, you could choose to book a private guided bike tour instead. This bike tour will help you explore all the best neighborhoods in San Francisco!
Check out this link to see all other public transport options that will get you to Chinatown.
If you would rather go by car, be aware of the long waiting for parking! Chances are very high that you'll wait up to 30 minutes for a parking spot unless you park in the expansive parking garages on the border of Chinatown and Financial District.
Events in Chinatown
There are two significant events celebrated in San Francisco's Chinatown. Chinese New Year in January is an incredibly festive time of year in the city. The festivities include a massive parade, a street fair, and mountains of fireworks!
The Autumn Moon Festival is celebrated mid-September. During this festival, the glories and mysteries of the moon are celebrated. This will be celebrated with a massive opening parade, lion dancing, live music, and much more!
Want to explore Chinatown and more?
Let's explore the city together! Our tours are 100% local, and we'll show you the city in a unique way.  
Book Your Dylan's Famous Tour Today!
Discover San Francisco like never before! Join our Explore S.F. group on Facebook, your ultimate guide to the city's best-kept secrets. From local tips to monthly adventures, this is where your journey begins. Click here to join and start exploring!